It seems that a Ubisoft image have been leaked out teasing many unannounced games.
A collection of game logos has been leaked out to the Japanese forum A9VG.com with many of games not being yet officially confirmed. It is believed that this image was of the preparation for the upcoming Ubisoft Digital Day 2013 press event, where new under-development video games are announced by the developer. Ubisoft has yet to make any statements on the image, however many gamers are convinced that it is legit.
Some of the games listed has already been announced with titles most of you would of already heard about such as Watch Dogs, The Mighty Quest for Epic Loot, Trials Frontier, Panzer General Online, Might & Magic: Duel of Champions and Poptropica: Forgotten Islands. The title that most catches my interest is Assassin's Creed, one of Ubisoft most successful game series. I am keen to know if they are just updates and side games, or if we are perhaps looking at a seek-peek of the next game of the series.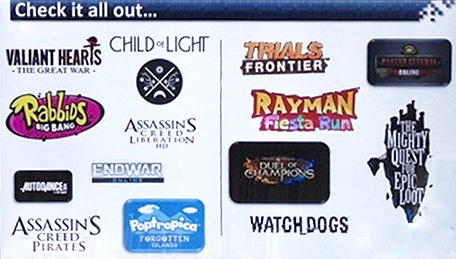 The unannounced games that has everyone jumping are:
The

Assassin's Creed: Liberation

HD
Assassin's Creed: Pirates
Autodance II
Child of Light
EndWar Online
Rabbids: Big Bang
Rayman: Fiesta Run
Valiant Hearts: The Great War
Most of these has been speculated as updated PS Vita games, mobile games and squeals, but till Ubisoft comment, these are all still just rumours.