Sorcery Saga: Curse of the Great Curry God, the rogue-like dungeon crawler RPG from Aksys Games, was released in Japan on the 28th of May of this year, but will be making its way to the PS Vita everywhere else at the end of the year after an announcement at Anime Expo. Not only will Sorcery Saga have a standard edition, but will also ship a 'absolutely delectable' limited edition. The Sorcery Saga: Curse of the Great Curry God "Hot and Spicy, Everything Nicey Limited Edition" set comes with a fully useable set of kitchenware "Perfect for when you're making your own legendary meal!".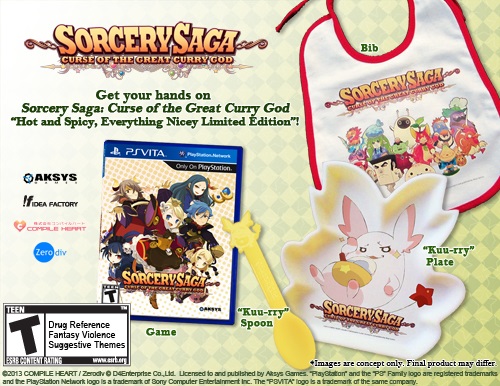 The set includes:
A Cute "Kuu-rry" Plate

Straight from the first tower comes Kuu, the always hungry little critter with an attitude!  Not only is it "Kuu-shaped" to perfection, but it also features the ever-present companion emblazoned on the surface of the plate!
An Awesome "Kuu-rry" Spoon

Can't get enough of Kuu? Well, you're in luck because along with that awesome curry plate, the limited edition also includes a Kuu-shaped spoon! Colored a cheer-inspiring yellow with the almighty Kuu and the Sorcery Saga logo debossed on the handle!
A Bibilious Bib!

Sorcery Saga: Curse of the Great Curry God features an array of wacky, sometimes cuisine-inspired critters that run amok in the dungeons you enter. Why not create a bib out of them?! Featuring many of the monsters and trigger-happy creatures you will face in Sorcery Saga, the bib completes the Sorcery Saga Limited Edition Set!
Be sure to keep an eye out for when Sorcery Saga: Curse of the Great Curry God when it comes just in time for this Holiday Season.