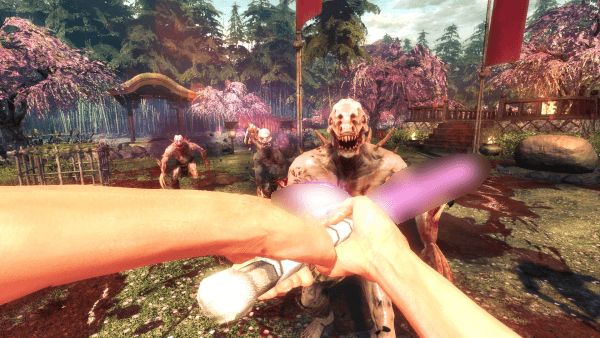 Flying Wild Hog and Volition, along with publishing powerhouses Deep Silver and Devolver Digital, are teaming up to bring you a unique cross promotion between Shadow Warrior and Saints Row IV. People who own Saints Row IV on Steam will unlock the 'Penetrator' weapon in the bawdy upcoming first-person shooter Shadow Warrior. That's right, folks – you'll be able to swing around that giant, purple, erotic "baseball bat" from the Saints Row franchise in first-person.
Fork Parker, Devolver Digital's CFO, was elated at the prospect. He had this to say about the crossover announcement: "I'm sorry I can't really hear you over the sound of all that money being thrown at screens around the world."
Shadow Warrior is set to come out for PC on September 26. Saints Row IV is already out for PC, Xbox 360, and PlayStation 3. For more information, you can visit Shadow Warrior's official website here.