The Fall anime season is imminent and I'm sure many of you are still catching up to all the Summer shows that we foolishly decided to take up, thinking we could smash through them every week. Oh how wrong we were. Surely I wasn't the only one struggling last season?
Personally, Fall represents an opportunity to tighten up my anime viewing. Less anime, more focus. Abandon the shotgun approach and take out fewer shows but with a .50 rifle instead, or something like that. So enough with the terrible metaphors, check out my personal picks of the Fall season below.
---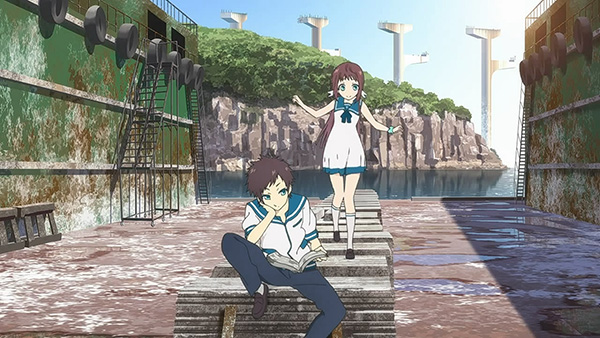 Nagi no Asukara
If you haven't seen the beautiful PV for this yet I suggest you have a look. For starters, it's being animated by P.A. Works, a studio that's known for their dazzling approach. Two middle school friends, Manaka Mukaido and Hikari Sakishima, have known each other since they were little. Manaka is shy and tends to cry a lot so Hikari has looked after her since. Here's the twist, they live under the sea.
Judging by the PV it's not a typical ocean, but a world that looks similar to ours only with fish floating through the air and other odd, ocean-like occurrences. This is one to watch not just for its unique setting, but it feels like a heartwarming story. Whether the character interaction will develop into young love or remain a genuine bond of friendship, I can't wait to sit back and enjoy this.
---
Kyoukai no Kanata

Kyoto Animation will have a showing during Fall, and it's called Kyoukai no Kanata. While it's going under the radar for many people, it's significant because it seems like KyoAni finally has an action-focused anime based in a spirit world. Akihito Kanbara, a boy who appears human but is actually a youmu (demon) with Wolverine-like healing ability meets a freshman girl, Mirai Kuriyama, who is about to leap from the school's rooftop.
Mirai is lonely because of her uncommon ability to manipulate blood (Deadman Wonderland anyone?). Once Akihito saves Mirai, strange and dangerous events start to unfold. It's been a long time since I've really enjoyed an anime by Kyoto Animation and I'm hoping this will change that.
---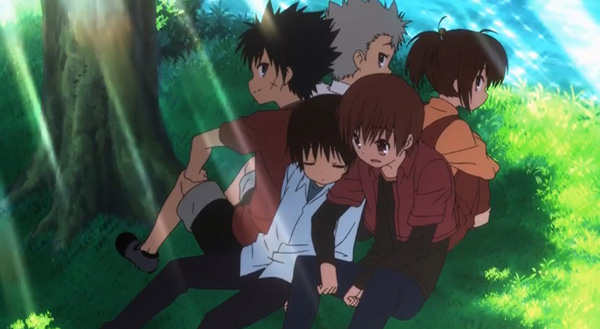 Little Busters! ~Refrain~
Chances are, you belong to either two groups. You either don't know what Little Busters! is or you're a fan of Key's amazing Visual Novel but hope to rid yourself of the memory it ever received an anime last year. Some of us like myself still enjoyed the anime, but we're an endangered breed.
While never reaching the emotional apex of Clannad, Little Busters! is incredibly special because it focuses on friendship rather than romance. True friendship. ~Refrain~ continues the story and it promises to up the ante in emotion, bonds and conflict in what appears to be a superior round two of the anime adaptation.
---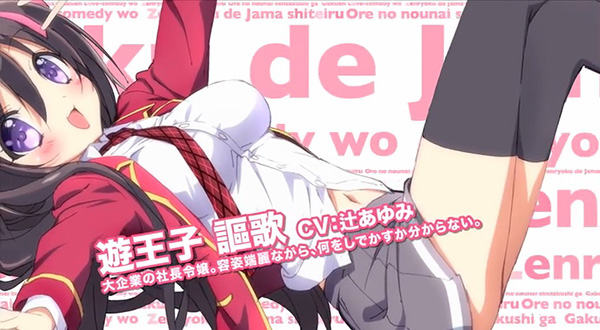 Ore no Nounai Sentakushi ga, Gakuen Love Come o Zenryoku de Jama Shiteiru
Each season we get an anime with a mouthful of fertiliser for a title, and Fall is no different! It seems that it's become a running gag in the last couple of years, and it's almost like anime companies agree to having no more than one per season. Summer had Watamote, Fall has Noucome. Translated to My Mental Multiple-Choice Power is Completely Ruining My School Romantic Comedy, it's exactly what the title suggests.
Kanade Amekusa is a kid cursed with the "absolute multiple-choice" quiz that appears in his mind, where he is forced to choose his reality. One day he is given the choice of either a beautiful girl appearing before him or he will drop from the roof in female clothes. Your guess is as good as mine. To be honest, just by looking at the PV the show seems rubbish in every respect. But I'm an optimist that loves surprises.
---
White Album 2
I'll be honest and say I know nothing about White Album 2, only that it's an adaptation of a visual novel released in Japan. There was a low-profile anime adaptation of the original game, however, back in 2009. Coincidentally I've always wanted to experience the White Album games but my Japanese skills aren't up to the task. Lucky we're getting an anime then!
The story is about a college junior, Haruki Kitahara and his relationship with Setsuna Ogiso and Kazuki Touma in the light music club. What will happen? Love? Dinosaurs? Absolutely nothing? I have no clue and I can't wait to find out! In all seriousness though, it looks like a peaceful love story that's hopefully not too harem-like because I'm getting more of an Amagami vibe here.
---
Honourable mentions: KILL la KILL, Valvrave Second Season, IS <Infinite Stratos> 2, Golden Time and Kikou Shoujo wa Kizutsukanai.