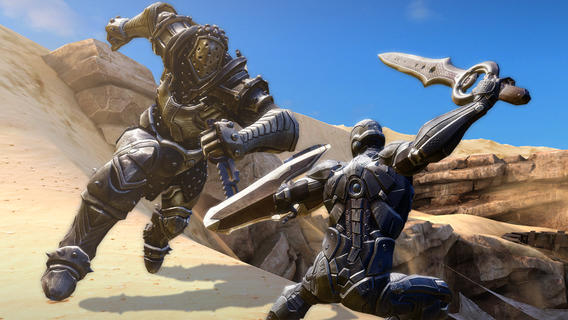 Welcome back for this week's iOS Game Suggestions. If you missed last week's, or are new to the suggestions, click on the link below and check out what cool games you should be picking up for your iOS device along with the introduction on how the suggestions work. (suggestions 1 has how it all works)
MasterAbbott's iOS Game Suggestions
A great week on iTunes! As always, it started slow and but ended with a bang! There are many must-buy games this week in all departments, FREE, 99c and over 99c. This week I've suggested a total of 22 great quality titles. Make sure you check them all especially… Orborun, Infinity Blade III, Captain Bubblenaut, Angry Birds Star Wars II, Dragon Finga, Disney's Infinity Toy Box, Ducktales Scrooge's Loot  just to name a few.
Break down below :
15 – FREE Games
3 – $0.99c Games
4 – Over $0.99c Games
As always for this week's suggestions are all new titles that you should take a look at and consider spending your hard earned iTunes cash / time on.  Well the Free games just below certainly should all be given a shot as they won't cost you anything!
For The Cheapskates – FREE GAMES
 

MASTERABBOTT'S FREE GAME PICK OF THE WEEK!

Ducktales: Scrooge's Loot – Price : FREE – Publisher – Disney (A new DuckTales adventure begins in this all-new quest for gold! Jump into mounds of riches with this exciting, online treasure-hunting game!The infamous Beagle Boys have swindled Scrooge's fortune! It's up to you to join the citizens of Duckburg to recover his stolen loot! Team up with your friends, and haul back the most riches to beat the competition in this mad gold rush. Get ready for a ton of action-packed fun and appearances from classic DuckTales characters like Scrooge and his quirky pilot, Launchpad!) on iPad & iPhone. GET IT NOW FOR FREE

Band Stars – Price : FREE – Publisher –

Half Brick Studios

 (Form a band, hit the studio and start recording! Train up your band and complete challenges as you make your way to the top of the charts. Fame and fortune await! Set your sights on world stardom and make your way to the top of the local, national and global charts. Discover each of the 50 super-cool Band Stars characters and complete over 200 unique challenges!

) runs on iPad & iPhone.

GET IT NOW FOR FREE

 
Deer Hunter 2014 – Price : FREE – Publisher –

Glu Games

 (Return to the wilderness in the most visually stunning hunting simulator on mobile! Travel from North America's Pacific Northwest to the Savannah of Central Africa in an epic journey to hunt the world's most exotic animals!

) runs on iPad & iPhone.

GET IT NOW FOR FREE

 
Tanktastic – Price : FREE – Publisher –

G.H.O.R. Corporation

 (You are about to begin a spectacular adventure in the world of heroic firefights, epic achievements, and furious tank combat! Tanktastic is a 3D PvP massively multiplayer online action game that brings the excitement of a console game to your mobile device. Being an ongoing venture of its inspired creators, Tanktastic is constantly updated with new and compelling features, including tank models, game modes, and battle terrains.

) runs on iPad & iPhone.

GET IT NOW FOR FREE

 
Carnage Raing – Price : FREE – Publisher –

Jagex Games Studios

 (Strap in, gun your engine and go full throttle into the most turbocharged, hi-octane combat racing game to hit the App Store. From the developers behind the epic Midnight Club series, Carnage Racing combines seat-of-the-pants driving, tricks and stunts with explosive vehicle combat in a no-holds-barred race for the chequered flag.

) runs on iPad & iPhone.

GET IT NOW FOR FREE

 

Disney Infinity Toy Box – Price : FREE – Publisher – Disney (Captain Jack Sparrow in a sports car racing Dash, Sulley climbing mountains to find Cinderella's Castle – create anything your imagination dreams of… Sync to your console game for complete cross-platform play, and unlock even more props, characters and decorations! ) on iPad. GET IT NOW FOR FREE

 
Cavemania – Price : FREE – Publisher –

Yodo1 Games

 (Enjoy truly old-school Strategy. Lead your Tribe on a journey through prehistoric perils. Plan your strategy as you gather resources using familiar match-3 gameplay. Place units and buildings on the game board and use them to achieve victory! But choose wisely, because you'll be fighting to survive against the elements and prehistoric foes.

) runs on iPad & iPhone.

GET IT NOW FOR FREE

 

Alice In Wonderland: A New Champion – Price : FREE – Publisher – Disney (Explore the vibrant world of "Alice in Wonderland" in an enchanting new Disney game inspired by the hit live-action film! Experience unbelievable sights and unravel the curious mysteries of Wonderland, as you fight to thwart the return of the dreaded Red Queen and her minions.) on iPhone & iPad. GET IT NOW FOR FREE

Heroes Of Camelot – Price : FREE – Publisher – Kabam (Reclaim Camelot from the Black Knight. Join thousands of players in this RPG Multiplayer Battle Card Game that will transport you into a world dominated by Dragons and Medieval mythological figures!) on iPhone & iPad. GET IT NOW FOR FREE

 

NFL Runner: Football Dash – Price : FREE – Publisher – Pocket Gems Publishing (Jump into the action and sprint into the endzone in this new endless runner brought to you by the NFL! Pick your team, test your reflexes and see how far you can run – dodge linemen, collect stars and power-ups, and upgrade your player's abilities. Compete with your friends to see who can get the furthest! ) on iPhone & iPad. GET IT NOW FOR FREE

Guns'n'Glory Zombies – Price : FREE – Publisher – HandyGames (It's finally going down! The Zombie Apocalypse is here and the dead are rising from their graves! Lock and load your weapons and face the undead hordes! You are the last line of defense and humanity's last hope for survival against the deadly Z-Virus!) on iPhone & iPad. GET IT NOW FOR FREE

 

Dragon Finga – Price : FREE – Publisher – Another Place Productions (Dragon Finga is a unique Kung-Fu fighting game for all ages! Take direct control of your own Dragon Warrior to take on infinite hordes of evil enemies! Race against the clock and complete missions for fantastic rewards! Unlock new powers, locations and enemies as you climb the belt rankings to become the ultimate warrior. Challenge your friends to see if they have what it takes to beat your score!) on iPhone & iPad. GET IT NOW FOR FREE

 

Battle Camp – Price : FREE – Publisher – Pennypop (Dare to clash with rampaging dragons and fire-belching warthogs? Then join Battle Camp, a persistent virtual world filled with legendary monsters and ancient evils. To survive, train a fierce monster team and form a Troop with fellow Rangers. Then work together to crush raid bosses, wage Troop Wars and dominate in real-time PvP. ) on iPhone & iPad. GET IT NOW FOR FREE

 

Castleville Legends – Price : FREE – Publisher – Zynga (Accept the challenge and restore the Legendary Lands! Long ago, this realm fell under a dark wizard's curse. Covered by gloom, the heroes of the land were trapped in crystal prisons. Only you have the power to free them and build a thriving new Kingdom!) on iPhone & iPad. GET IT NOW FOR FREE

 

Infectonator: Hot Chase – Price : FREE – Publisher – Armor Games (Finally, the chase that we have all been waiting to die for! Run all over the world with your favorite zombies chasing a hot chick! Be the zombie that falls in love with our lovely news reporter. From the #1 Hit Zombie flash game, Infectonator, here comes the side sequel of the game. In this game, players will be able to control a horde of zombies going through all obstacles with utmost haste for the love of their (undead) life.) on iPhone & iPad. GET IT NOW FOR FREE
For The Bargain Hunters – 99c Games
| | |
| --- | --- |
|   | Angry Birds Star Wars II – Price : $0.99 – Publisher – Rovio (The Force is strong with this one. Get ready for Angry Birds Star Wars II – the epic follow-up to the #1 smash hit game! Based on the Star Wars movie prequels, use the Force for good against the greedy Pork Federation or choose a much darker path. That's right; for the first time ever you can "Join the Pork Side" and play as the fearsome Darth Maul, Emperor Palpatine and many other favorites!) runs on iPhone & iPad. BUY NOW |
|   | Sidekick Cycle – Price : $0.99 – Publisher – Global Gaming Initiative (Blaze a trail to victory with Sidekick Cycle, Global Gaming Initiative's one-touch downhill biking game that turns you into an adventurous, heroic biker. Use your skills to brave hazardous terrain, delivering bikes to kids in need. Customize your ride with an assortment of helpful Sidekick companion animals, then push it to the breaking point as your hurtle at top speed through dangerous courses filled with gravity-bending jumps and all that Mother Nature can throw at you! ) runs on iPad & iPhone. BUY NOW |
|   | Help Me Fly – Price : $0.99 – Publisher – Funtomic (Propellor Joe's plane ran out of power again, and it's up to you to help him jump-start it through 60 brain teasing levels. Arrange and rotate the pieces on the board so they connect Joe's plane to the battery. Beautiful, clean graphics. Exciting new gameplay elements are added as you progress through the levels – energy beams, wireless power transmitters and more. Find a path that powers up all the stars for an extra challenge! Help Me Fly is a simple yet challenging game that's going to keep you busy for hours, scratching your head and smiling.) runs on iPhone & iPad. BUY NOW |
For The Millionaires – All games over $0.99
 

MasterAbbott's over 99c Pick Of The Week!

Infinity Blade III – Price : $7.49  – Publisher – Chair Entertainment (Created by ChAIR Entertainment, the original iOS blockbuster returns with adrenaline-fueled sword-fighting action, gorgeous visuals, and a thrilling story of love, betrayal, and redemption. Siris and Isa have joined with the God-King Raidriar in a desperate attempt to destroy the Worker of Secrets and his army of Deathless titans. Uncover new mysteries to wield the power of the Infinity Blade in this timeless adventure of champions and villains. ) runs on iPhone & iPad. BUY NOW

Orborun – Price : $1.99  – Publisher – Bulkypix (Orborun is a 3D run & roll game where your nerves will be put to the test. Tilt your device to make your Orbot run and roll on long & curvy slides, use the power-ups to go faster, tap on the slowdown bar to be more precise. Complete optional challenges and arrive faster to get higher scores and compare them with your friends.) runs on iPhone & iPad. BUY NOW

 
Captain Bubblenaut – Price : $1.99 – Publisher –

Tin Dean Tate

 (You are CAPTAIN BUBBLENAUT! Your mission: to earn the love and respect of your father, the warmongering ADMIRAL POP. Invade the square-shaped abomination known as PLANET ERF, obliterate every ERFLING in sight, and make your father PROUD!

) runs on iPad.

BUY NOW

 
incredipede – Price : $4.49 – Publisher –

Sarah Northway

 (Incredipede is a puzzle game that celebrates the vast diversity of life in the world. Follow Quozzle, a lone Incredipede with the unique ability to grow new arms and legs wherever she needs them. Transform into a snake, a spider, a horse, a monkey – anything you can imagine. Control Quozzle as she learns to swing through the trees, climb sheer cliffs, dance over rivers of lava, and even soar through the air on thermal winds.) runs iPad & iPhone. BUY NOW
There you have it folks these games should keep you busy for quite some time well until next week at least. I'll be back next week for another dose of iOS goodness, in the meantime if you would also like to suggest your own suggestions, please feel free to share them in the comments section below or in the iOS forum section on the site here.
Remember kids, Play Hard Or Don't Play At All!