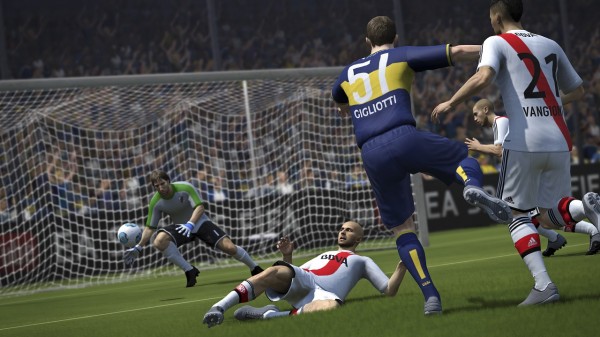 EA Sports FIFA 14 is now available across Australia for all current-gen platforms and handhelds, in retail and as digital downloads through Origin. The demo of the latest entry in the immensely popular football franchise garnered the highest number of players in the series history with over 5 million worldwide, and reviews so far have been glowing, with 32 review scores of 9 out of 10 or higher, including five perfect scores.
In terms of metrics, the number of fans who have played the demo has increased 7% year-over-year, while the number of fans using the FIFA 14 Ultimate Team Web App, which enables fans to start crafting their ultimate team pre-launch, attracted 1.35 million players – up 86 percent year-over-year – and over 830,000 daily active users. EA Canada continuously improves upon their goal-winning formula with each iteration, and clearly this year seems no different. And of course, when the EA Sports Ignite powered next-gen versions release this November, the title will become even more impressive. For those who are unaware, check out its main features:
• Precision Movement—Now every step counts as players plant, pivot, cut, and shift momentum with the agility and explosiveness of real athletes. Player acceleration and deceleration is more realistic with a game-changing effect on gameplay.  Players feel more grounded, agile and athletic, and manage their momentum with distinct foot plants and push-offs, delivering the authentic motion of professional players.

• Pure Shot— Shooting has been transformed. Players have the intelligence to adjust their stride and approach angle to find the best position for hitting the back of the net. Well-hit balls feel satisfying and goals are rewarding.  As well as quality strikes, players can now shoot while off balance or rushed.

• Real Ball Physics— Strike the ball with more force and finesse. Realistic ball physics now determines the trajectories of balls in game, enabling players to strike the ball with force from distance, drill low rising shots with accuracy, and blast dipping or swerving shots, just like real players.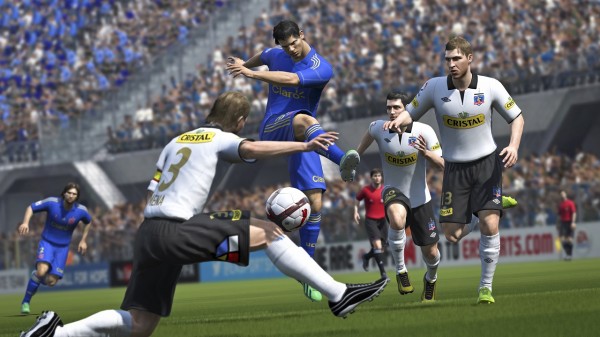 • Protect The Ball—Fend-off and block defenders from the ball while dribbling at any speed. Protect the ball from opponents to control play through midfield and dictate the pace of the match.  Plus, out-muscle opponents for position before receiving the ball, then turn defenders to carve out opportunities.

• Teammate Intelligence— Better decision-making delivers tighter, smarter marking and improved run tracking. Defenders recognize opportunities to provide support and win back possession. Attacking players have new ways to outsmart their opponents and break down defences by creating space for themselves, running along the backline and checking their pace.

• Sprint Dribble Turns— Utilize quick, explosive cuts and turns to beat defenders one-on-one while sprinting with the ball. Players can move in any direction, preserving their natural momentum and maintaining possession of the ball.

• Variable Dribble Touches— The First Touch Control of dribbling varies a player's touch when dribbling with pace.  Skilled players have the touch and control to stand out while less skilled players will experience fewer perfect touches and more uncertainty dribbling, creating opportunities for defenders to win back possession, and placing emphasis on building play through midfield.

• FIFA Ultimate Team—Create your own unique squad of stars to play your style of soccer.  Ultimate customization is possible with all-new Chemistry Styles that make every player and every team unique. Like real-world soccer, chemistry influences a team's performance so building ideal chemistry within a squad enables a team to perform at its best. Each Chemistry Style has a unique effect on the way a player performs by enhancing different player attributes. Different styles can be applied at every position. Plus, test your talents in the popular Seasons mode—now expanded to 10 divisions— or in online single games and tournaments.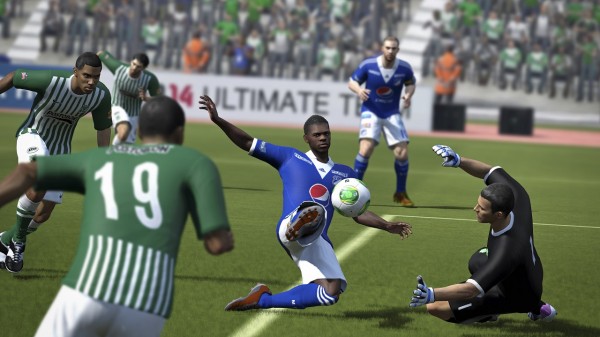 • FIFA Ultimate Team Legends—Craft your ultimate dream team with a mix of legendary players—including Pelé—competing alongside today's stars only on Xbox. Each Legend will have unique attributes that will showcase the skills and flair that made them legendary at the height of their careers, and may be included in Gold Packs or available through the Transfer Market beginning with the launch of the Xbox One.

• Skill Games–A competitive practice mode to learn or master the fundamental skills necessary to compete at FIFA 14.  Become a better player, faster, no matter what your skill level, competing against yourself or friends in all-new mini-games.

• Co-op Seasons Mode–Play with a friend online against two other online friends anywhere in the world in 2v2 ranked online play, trying to climb up to Division One, win a League Title and achieve greatness together.

• Match Day Online–Match Day has been expanded to Seasons and Co-op seasons, completely connecting fans playing online to the football season for the world's top leagues, with player form changing throughout the season based on real-world events and performances.

• Career Mode— Search for talent year-round with the new Global Transfer Network that brings the world of professional scouting to life. Develop and refine your own scouting network. Evaluate players to uncover the attributes of ones who could bolster your squad during the transfer windows. A new hub delivers easy navigation, fewer interruptions and live scouting reports.
Our review of FIFA 14 on Mobile will be up imminently, will the console review coming shortly after.