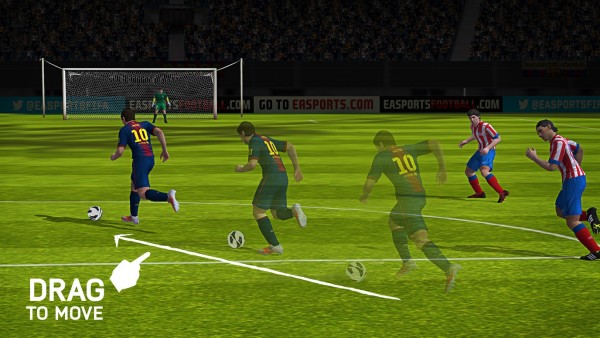 The FIFA franchise is the top selling in the sports genre, with over 13 million copies sold of last year's edition alone… and yet, EA are making strides to reach millions more, as FIFA 14 is to be bundled with Xbox One consoles in Europe and Australia.
Then, there's FIFA 14 on mobile, which is free-to-play for the first time in the series' history (at least in the west). The term 'F2P' has been received with negative connotations in the past, but if any of you have played Plants vs Zombies 2, you'll know how 'full' the experience can be. And that's exactly what EA Mobile are hoping to provide with FIFA 14 on mobile; a fuller, content-rich football experience at a free-entry point. We got a first-hand demonstration of what will be on offer when the app hits later this season, and it suffices to say that EA has achieved this goal (pun not intended).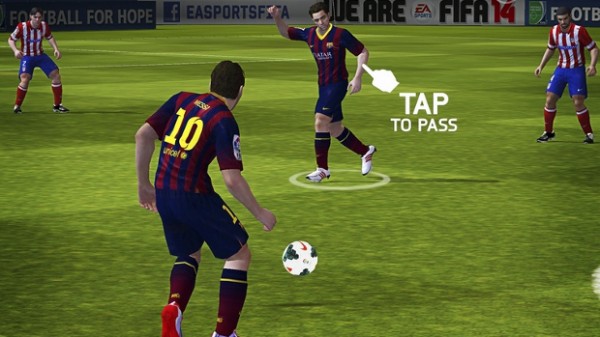 Without paying a cent, you get a more than healthy variety of modes to play with. FIFA Ultimate Team (FUT), Seasons (Offline), EA Sports Football Club 'Match of the Day', Online Quick Matches and Friendlies and Penalty Shootout. FUT and Online Multiplayer is where a lot of players spend the majority of their time, but if you crave more, you can pay $5.49 to unlock the premium modes: Manager Mode, Tournament Mode and Kick-off Mode. Now, for those who are unaware or simply do not remember, FIFA 13 on Mobile cost $7.49 out the gate and packed less content for your buck… just keep that in mind.
If you don't already grasp how big this mobile version truly is, then maybe this will help; there are 34 licensed stadiums, over 30 licensed leagues and over 600 total teams included in the almost 1.2GB title! And for the first time ever, multiple commentary languages are being offered to players. Once you've downloaded and opened the app, the options of downloading either a French, German, Italian or Spanish (aside from the standard English track) commentary language will be presented to you. Also new to this iteration are intuitive touch controls, which you can see examples of the screen found within this article.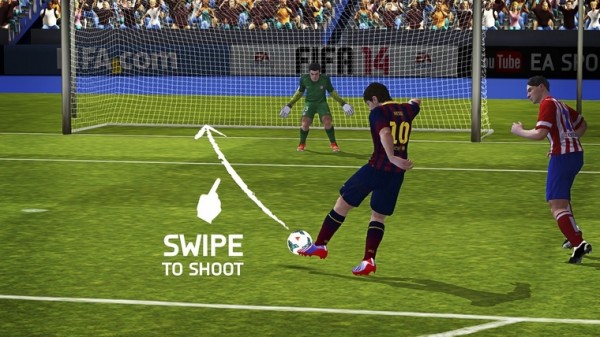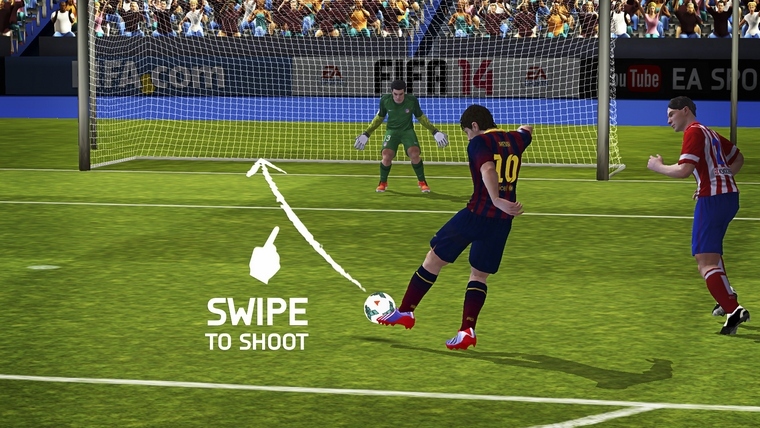 The touch controls are not a forced, default control scheme, but an alternative to the still present floating D-pad and digital buttons. So now, you have more ways to play. What's especially neat about this newly tailored touch control scheme is that you can direct usually NPCs – fellow squad members – in the direction you would like, and they will make that run to what is hopefully (depending on your 'expert' choice) an optimal path for victory. One of the features I sorely missed in the past few titles has been that ability to dictate runs for squadmates, so this is personally a very welcome addition.
FIFA 14 on mobile looks great so far, and the touch controls as demoed to us live are very responsive. Everything requires the action you'd expect… even hitting a curved strike at goal requires a simple curve in your shot arc made by your finger. FIFA 14 on mobile will be releasing on iOS and Android devices – with other mobile platforms to be revealed at a later date – this Spring. Stay tuned to Capsule Computers for our review in the very near future.