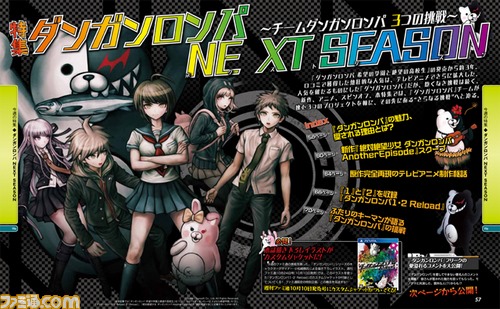 It is worth noting that, for those reading this who may be keeping up with the currently airing DanganRonpa anime adaptation, there may be a few spoilers below. Anyways, now that that warning is out of the way, more details for DanganRonpa: Another Episode have been revealed.
The game is a spin-off that will take place between DanganRonpa, currently being localized by NIS America, and Super DanganRonpa 2 and it will be an action adventure game instead of a mystery solving title like past DanganRonpas, this means it will try to place more emphasis on horror than puzzle solving. The heroine of the game has been revealed as Komaru Naegi, the younger sister of Makoto Naegi and she is capable of using a special megaphone which shoots word bullets that contain commands such as "Dance" or "Move." Using these bullets she is capable of controlling Monokumas she encounters. It has also been revealed that Touko Fukawa's alternate personality, Genocider Syo, is also a playable character in the game.