 Level Up Wear, the stylish gaming apparel site has signed with Bethesda Softworks, developers of  The Elder Scrolls franchise, to produce a line of apparel and merchandise based off many of Bethesda's popular titles. The line will include t-shirts, hoodies, bags, wallets, and mobile cases with branding from popular Bethesda titles like Elder Scrolls, Fallout, DOOM, Dishonored, and yet to be released titles like The Elder Scrolls Online, Wolfenstein: The New Order, and The Evil Within.
"The Bethesda catalogue of games includes some of the most beloved franchises in gaming history, both classic and modern. We are extremely honored and excited by this opportunity and are creating a diverse product line that will appeal to hardcore and casual gamers alike," says Dimitri van Eetvelde, Managing Director at Level Up Wear.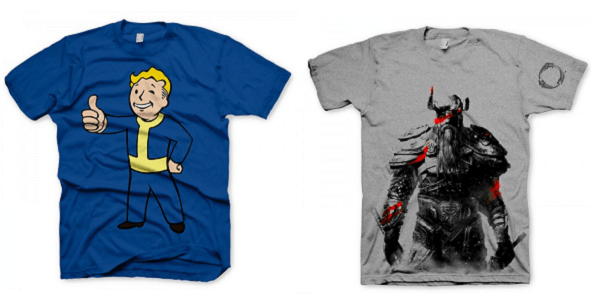 You can pre-order the apparel here at Bethesda's online store or wait for the line to become available on October 15th. New merchandise, as well as limited edition items, are said to be added to the store on a regular basis after its launch. You can also check out some of Level Up Wear's other apparel and merchandise here.