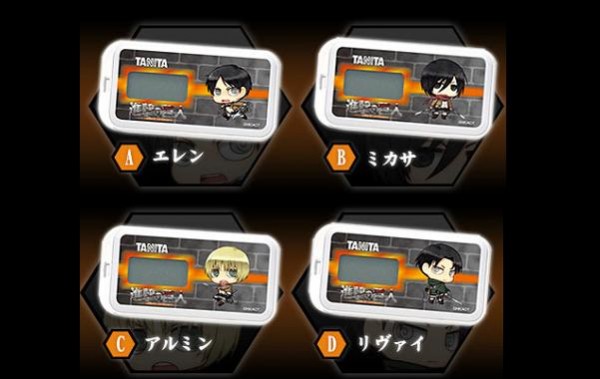 Due to the popularity of Attack on Titan, it was inevitable that the series would be used in various forms to promote products, but this has got to be one of the weirder (and more awesome) ones that exist.
Health Company Tanita have released a series of pedometers in Japan that have chibi versions of Erin, Mikasa, Armin and Levi on them. Each pedometer costs around 3,990 Yen (39USD) and encourages exercise by rewarding people for a certain number of steps taken every day.
For every 8,000 steps people are rewarded one point and the more days they walk, the more points they can collect. People can upload their step count through the over the counter Loppi terminals, these terminals will then send their walking info and points to the website Karadakarute. One way to use the points is by registering to win one of two Attack on Titan prizes, shown in the below image.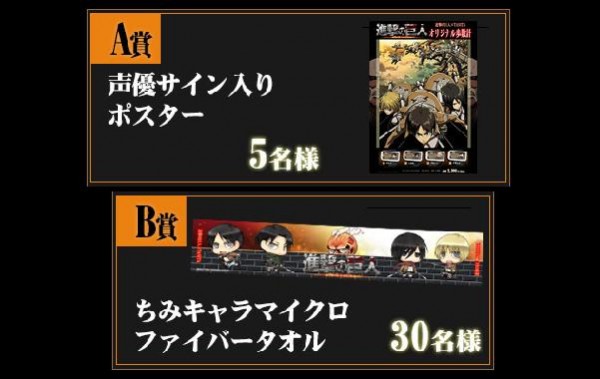 Each Titan pedometer has a special "words of encouragement" feature that can be heard through the website, the speech is given by the represented character on the pedometer (I really want to hear what Armin has to say).
The campaign began in mid-July and finishes in a couple of days, this is the second time Tanita have used this form of promotion, the first being done earlier this year using Evangelion themed pedometers. I wonder if you can still buy these once the campaign has finished.
Let us know what you think about this promotional event by leaving a comment down below.