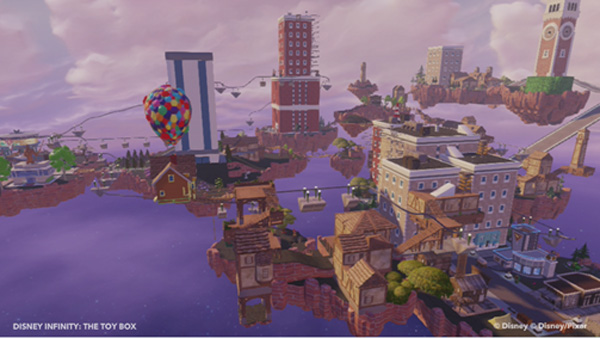 Disney Infinity is taking the world by absolute storm. Players of all ages are ripping open Power Disc packs, placing figures on the Infinity Base, and building things in the game's Toy Box Mode. Since the game's launch, Disney have been steadily releasing packs of pre-built Toy Box worlds for you to play with and explore. Today, the third wave of these worlds is available for you to download, in fact you can do so right now.
As with the previous releases, there are five free Toy Boxes you can download, each offering a different theme or challenge that makes it unique and different to the rest. The Toy Boxes available today are;
Toy Columbia – Explore a sprawling city in the sky with infinite possibilities. (Not hard to guess what inspired this one)
Blue Breakout – Players must find their way out of this maddening blue maze.
Sky Gauntlet – Put platforming skills to the test in a series of complicated challenges.
Jungle Cruise – Become the skipper in a Jungle Cruise-inspired Toy Box, full of adventure, peril, and puns.
Trench Run – Pilot a Tron Recognizer through an obstacle-filled trench to save the galaxy.
Disney Infinity, as well as its associated first wave of figures and power discs are available now, with more to come in the future. If you haven't done so already then check out our review of the game here, and remember that for all the Disney Infinity news as it becomes available, stay tuned to Capsule Computers.