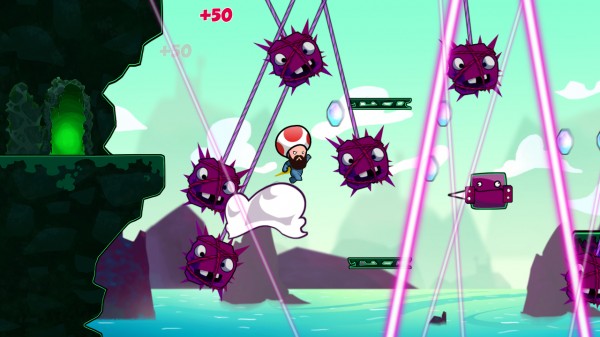 Cloudberry Kingdom, the Pwnee Studios title that originally went through Kickstarter, and found a publisher in Ubisoft, is finally available on the PlayStation Network, Xbox Live Arcade, Steam and Wii U! A PS Vita release is planned for later in the year.
The platformer challenges gamers with deadly obstacle-course like adversity as they attempt to cross from one end of a randomly generated level to the next. Every level is a new experience due to the random generation algorithm. As you progress successfully, they will also increase in difficulty, having the potential to give you an extremely tough time – some people just love the anguish of failure and seeming impossibility. There are ten hero types to experiment with, and three different modes of play: Story, Free Play and Arcade – which includes Time Crises, Hero Rush or Escalation. Four players maximum can compete or play co-op locally (hooray!).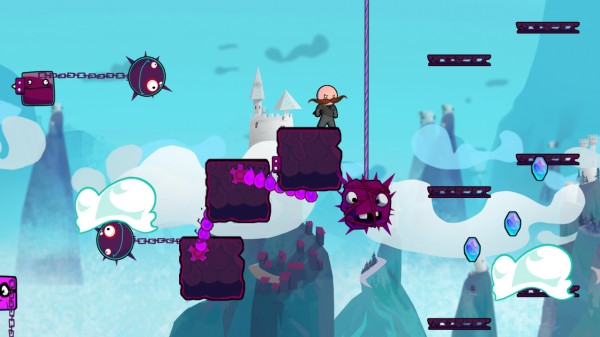 So what is the tale here? It's all about Cloudberry Kingdom's fate, naturally. Here's an official synopsis, if you will:
As the Orb resurfaces, the classic characters return: Kobbler with his mania, Princess with her endless boredom. It's only a matter of time before Bob, our hero, shows up to put order back to madness. Three powers struggle for victory and the fate of Cloudberry Kingdom hangs in the balance. What will become of the retired hero, Bob? Will saving Princess one last time win her love? Could true love ever stop Kobbler and the power of the Orb? No, probably not. But hey, it's worth a shot.
Oh and, by the way, Bob is voiced by Kevin Sorbo (Hercules, Andromeda). Herc-u-freakin'-les! Not sold yet? Check out the launch trailer embedded below!