Ubisoft Montpellier's highly anticipated platformer Rayman Legends is now available on Wii U, Xbox 360, PlayStation 3 and PC and, with a release for PlayStation Vita on September 12th, 2013.
Following Rayman Origins, our heroes take a 100-year nap, allowing nightmares to infest the Glade of Dreams. Once Rayman awakes from this mysterious sleep, he must set off on a new adventure with his friends to restore order in the universe.
Along with the classic Rayman platforming, Legends also adds rhythm based music stages. During these levels, players will jump and punch their way through obstacles whilst accompanied by their very own soundtrack. Each action taken will sync up with the backtrack, giving each level its own flow. Along with the audio, Legends is set to boost the visual via an improved lighting system and updated rendering, bringing the games beyond Origins. If playing on the Wii U, a fifth player can join in on the fun and assist by playing as Murfy the Fairy via the unique GamePad controller. Players will be able to cut ropes, activate mechanisms, gather Lums and even hold enemies in order to aid their friends.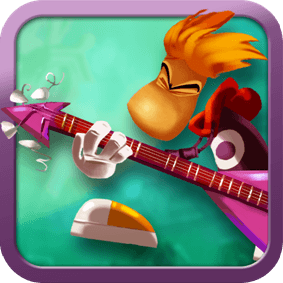 To celebrate the launch of the game, Ubisoft has also released an app titled Rayman Legends Beatbox. This app takes the fans further into the universe of the game by allowing them, through simple drag and drop gameplay, to play with parts of the game's soundtrack in two different modes: Legendary Mode and Creation Mode. Legendary Mode contains three music tracks to play with from Rayman Legends. Each song is split into six instrumental parts, which the player can choose to activate or deactivate for varying effects. Creation Mode, however, allows players to create their own songs from a library of instruments and melodies. The app features five categories of instruments and up to six sounds per instrument from Rayman's universe for players to record their own creation, and then to share with their friends.
Rayman Legends Beatbox is available on the App Store, Google Play and in-browser. For more information, visit the official site and Facebook page. Let's get the Legends started!