Plants vs Zombies 2 hit the Australian iTunes store a few weeks back, and since then it has spread like wildfire. Almost everyone with an iPhone/iPad (in Australia) has grabbed the latest installment of the tower defense phenomenon that is Plants vs Zombies. Not only has it been a commercial success, but critics are also loving the game (check our our review here). As a fan of the series, and also the guy here at Capsule Computers that was lucky enough to review the game, I had a tonne of questions about the series past, present and future. With that in mind, we here at Capsule Computers reached out to PopCap Games, and were met with a frank and cheerful response from Allen Murray, Senior Producer on PvZ2. I hope you enjoy our little chat.
---
Question 1: The original Plants vs Zombies has made its way from mobiles to pretty much anything and everything that plays games. Is the plan for Plants vs Zombies 2 to eventually get the same widespread release?
Answer: The choice to lead with iOS was largely driven by the industry as a whole. Since the release of the first Plants vs. Zombies on PC we've seen our mobile players become our biggest, most active fanbase – and this fell right in line with PopCap as a whole, which has been focusing on mobile for the past few years. The iOS also platform gave us the opportunity to add in some new touch-screen effects such as the Power Pinch, Power Toss and Power Zap. We expect to adapt Plants vs. Zombies 2 to quite a few other platforms in the coming months and years, but we aren't discussing any specific plans for other platforms at this time.
Question 2: Plants vs Zombies: Garden Warfare was definitely a surprise at this year's E3 Expo. The game looks exciting, and is a unique way to expand on the PvZ 'universe,' Will we see any connectivity between PvZ2 and Garden Warfare?
Answer:  Sorry but I have to leave the Garden Warfare news to the Garden Warfare team.
Question 3: With Plants vs Zombies: Garden Warfare coming soon to Xbox One, are there currently any plans for PvZ to expand into any other genre? Maybe an RPG?
Answer:  The world of Plants vs. Zombies is wide open. You see how we're expanding it with the comic books that Dark Horse is publishing and in other efforts outside of games, and so we're definitely open to thinking about how other gameplay genres may fit as we think about the franchise as a whole.
Question 4: Free-to-play is sometimes seen as a bit of a dirty phrase in gaming, what inspired the decision to go down that path with this installment?
Answer: We fully committed to move to Free-to-Play only once we had established the core design Since the first game was so beloved, we knew we could not mess this up. We knew we had to stop and apply a lot of design thinking to this new approach. We looked at economic models of games that we loved to play, and noted key moments in classic PvZ where the player can pause to make decisions about how to purchase items or unlock content in the game. Some inspiration came from classic games we love that had solid in-game economies, such as the latter Super Mario games that introduced the concept of world maps and the star system to unlock new levels. As a result, we hope players find our in-game store and monetization aspects to be a well-integrated,core part of the game, as opposed to feeling tacked-on.
Question 5: Plants vs Zombies 2 hasn't made its way to the App Store in the US Yet, what made you release to us lucky Australians first? And will the game be receiving any updates, such as new levels etc to coincide with its US Launch later this year?
Answer: The original Plants vs. Zombies has such a fan following, and we needed to be mindful that we didn't mess with that magic. There was a lot of concern around making the game free-to-play, which introduces a number of challenges around scalability, play balancing and economy but also a lot of opportunity such as the introduction of new content. We wanted to ensure that PvZ2 met the quality standards people have come to expect from PopCap and the franchise, and doing the soft launch enabled us to test and polish aspects of the game in a manner we couldn't do internally. As for new content, I've been sworn to secrecy.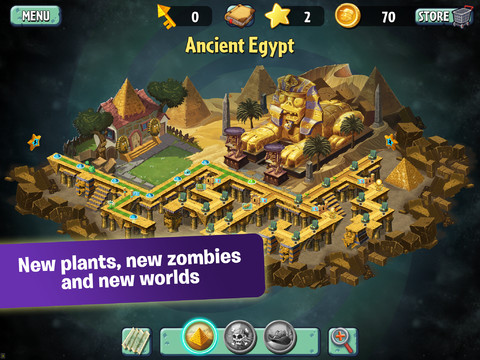 Question 6: So now we have Egyptian Zombies, Wild West Zombies and Pirate Zombies. Can you give us any hints as to what we can expect next?
Answer: Again, I've taken an oath! We're not specifying exactly what the next world will be at this time – except I can tell you that it will be available later this year, at no cost, and it'll be full of new plants, new zombies, and more fun! We came up with a lot of crazy ideas while making this game, many of which didn't make it because they either didn't quite come together or didn't fit conceptually into the first three launch worlds. But that doesn't mean they won't appear in later worlds we introduce. We have lots of new worlds and characters up our sleeves, so we're reluctant to give too much away and ruin the surprise by saying too much.
Question 7: What would you say is the most enjoyable part of making the Plants vs Zombies games?
Answer: The best part, hands down, is the people. The team is just the best, most amazing and hardest working team I have ever had the pleasure of working with in over a dozen years of game development. And the fact that we get to spend each day discussing funny ways in which plants can knock the heads off zombies? That's icing on the cake.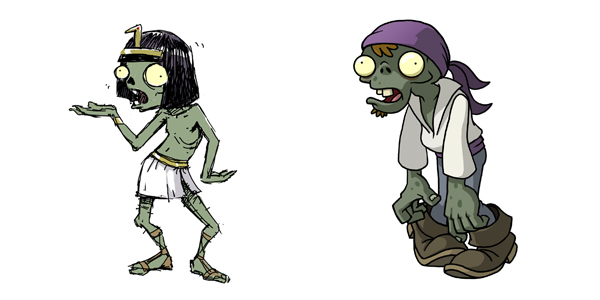 Question 8: Conversely, what would you say is the worse part?
Answer: The pressure! Plants vs. Zombies is not just a successful game, it's a beloved game and brings with it a legacy and expectation of quality and fun that we need to maintain.
Question 9: There are an enormous amount of plants and zombies that have been created for the games, and each one is unique and appealing in their own ways. Does the development team have any plants or zombies that really shine as their favourites?
Answer: There are new standouts like the Bonk-Choy, Lightning Reed and the Pea Pod, but the old favorites, the heroic trio of the Peashooter, Sunflower and Wall-Nut will forever be in our hearts.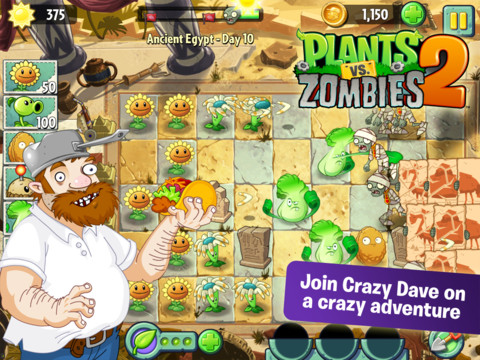 Question 10: Recently we have seen Angry Birds move from being just a video game into a multimedia franchise complete with its own cartoon series. Are there any talks at the moment to do the same for PvZ? I personally would love a PvZ animated series.
Answer: Oh man, me too!
Question 11: The other day, I was down at the football and behind me I heard two kids, couldn't have been any older than 8 or 9 talking about how awesome Plants vs Zombies is, and comparing which levels they were up to. "Are you up to the pirates yet? It rocks!" How does it make you feel as game developers to know that you have created something that is loved and discussed by people from literally all ages.
Answer: That is the best feeling. That is why we do what we do. Each of us remembers what it was like being that 8 year old kid totally geeking out over their favorite game and now we get to live our dreams. We are literally Santa Claus to millions of young players right now and that brings such a joy to my heart that I have a hard time describing it. It's safe to say that I am quite the rock star at my kid's elementary school.
---
"Literally Santa Claus" I think that sums it up nicely. Not only are the guys at PopCap great game developers, but just great guys all round. Big thanks to Allen Murray for taking the time to talk to us! Plants vs Zombies 2 is set to launch in the United States TONIGHT, so all of you Americans can enjoy what us Aussies have been going gaga over these past few weeks.
As Plants vs Zombies grows as a franchise, it will (hopefully) start to encompass more forms of media; starting with the soon to be released comic book from Dark Horse. With that in mind, for all the Plants vs Zombies news as it becomes available, be sure to stay tuned to Capsule Computers.