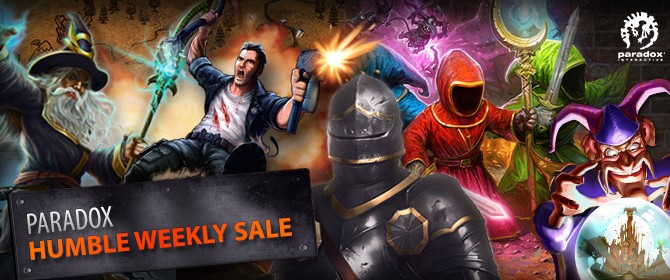 Publisher Paradox Interactive's greatest releases are the basis for this week's Humble Weekly Sale. If you have never experienced some of their grand-strategy titles and more, this is an awesome opportunity (whilst giving to charity, so you get some "heaven points").
The pay-what-you-want deal lasts until Thursday, September 5th, and contains the following games at the designated donation levels:
Gamers who donate $1 or more will receive the following games, plus soundtracks:
War of the Roses (PC)
Warlock: Master of the Arcane (PC)
Dungeonland (PC/Mac)
Leviathan: Warships (PC/Mac)
The Showdown Effect (PC/Mac)
Europa Universalis III Complete (PC/Mac)
Gamers who donate less than $1 will receive soundtracks only to all of the above games.
Gamers who donate more than the current average donation will also receive the following games, plus soundtracks:
Magicka (PC)
Crusader Kings II (PC/Mac/Linux)
On top of all that, any donations exceeding $125 will receive "The Big Kahuna" package, which will include a copy of every single game that Paradox currently offers through Steam (besides Europa Universalis IV and/or its DLC packages), as well as their soundtracks. That's a whopping $800 in total value! You can buy the weekly bundle here. If you'd like a good look at the afore-listed titles, check out the bundle trailer below.