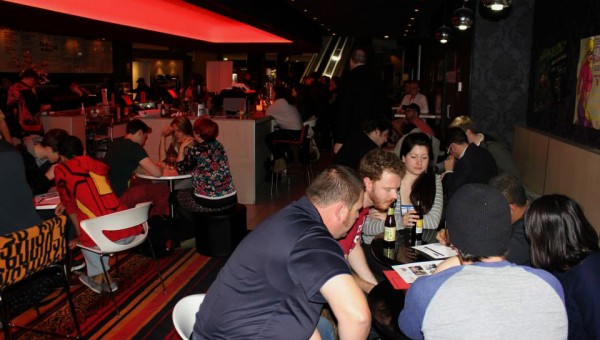 The other night in the Set Cafe & Bar at Event Cinemas George St, the inaugural Kings Comics Trivia Event was held in celebration of the release of Kick-Ass 2, in theatres August 22nd.
A couple of us were able to attend and represent Capsule Computers, before heading upstairs for an early screening of the film (review will be up tomorrow). Attendees were able to grab posters and show-bags courtesy of FILMINK- Australia's Best Movie Magazine, as well as free comic show-bags from Kings Comics. The trivia wasn't entirely Kick-Ass themed, instead covering all kinds of pop-culture, comics and film topics. Our trivia-meister Kevin Curley doled out the questions to the 28 teams present over 3 rounds. The winning team would receive a Kick-Ass Prize Pack from Kings Comics.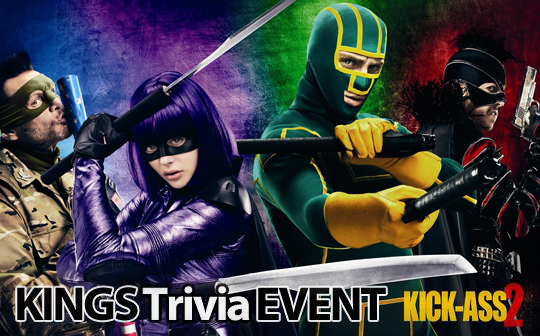 Each round comprised of straight-up questions, multiple choice and "who are they?" sections, where we had to identify the actor and character they were portraying in the image provided. Unfortunately, we did not come away victorious…in fact, I personally was slightly embarrassed that I did not know some of the answers. My nerd-card must be provoked me thinks…nonetheless, all up, we did okay with an estimated 40 points. But the winning team was the 'We Are Kings Comics' staff with 72 points…
Now, of course, it's not exactly fair to give the prize to the hosts, so they graciously forfeited and allowed 'JD's Justice League' to take the crown, only 4 points behind at 68 total. Second prize went to the inappropriately named 'The Unprepared', made up of a mix of the KAPOW! crew, Geek Bomb and friends, who finished with 60 points. They won the awesome FilmInk ClubInk 1-year subscription which includes loads of movie passes all year round to watch each of FilmInk's Movie of the Month picks.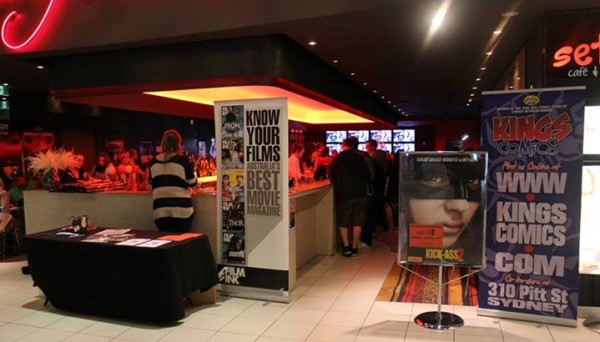 Second-last even came away with some goodies, as 'Team Injustice' – concluding with a measly 17 points – scored themselves a double Gold Class pass from Event Cinemas…maybe we should have tried to suck on purpose?There were also Lucky Door Prizes from Universal Pictures (that we also didn't win, waaahh) and free copies of TimeOut magazines for all! All in all though, it was an extremely fun night and we'd like to thank all parties involved for having us. And a special thank you to Anthony from Event for giving us a shout out before the announcement of the winners; that was very kind.
As the event came to a close, there were rumblings of a future trivia night to be held in anticipation of a certain mythological-comic book hero film…I only wish lightning had struck at that very moment. Anyway, we look forward to more of these, and if you'd like to attend in the future, keep an eye on Capsule Computers and the official Kings Comics Facebook page linked above.