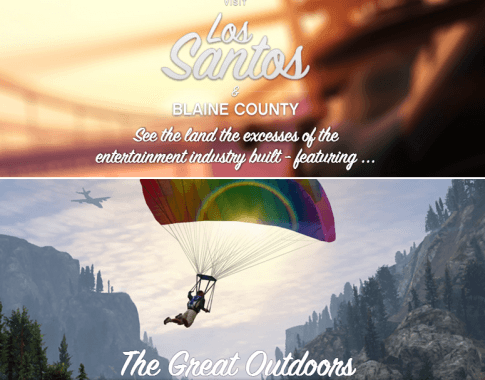 Rockstar Games have created a special interactive travelogue for GTA fans, giving them a pre-tour of Los Santos and Blaine County before Grand Theft Auto V's release on Xbox 360 and PS3, September 17.
The Grand Theft Auto V travelogue of this beautiful west-coast destination includes:
Fast Cars at Your Fingertips: Premium Deluxe Motorsport Cars; Feltzer, Tailgater and Voltic
Thriving Economy and Commerce: Online trading with the BAWSAQ stock exchange, could lead to significant investments in the volatile Los Santos commercial real estate market
Affordable Healthcare: Self-medication dispensaries (medical marijuana), appointments with accredited therapist, Dr. Friedlander in San Andreas and  if you need patching up, go to Mount Zonah Medical Centres
Vehicular Customisation Shops: Make your ride your own, with customised wheels, paint, body kits and more
Shopping and Glamour: Experience Los Santos, from the well-tailored jet-setter couture in the high-street shops of Rockford Hills to the dishevelled and disaffected drug addict hipster vibe in Hawick
Accessible Air Travel: Log onto ElitasTravel.com and purchase luxury aircraft from Luxor and Shamal jetliners to high-end helicopters
Leadership You Can Trust: Vote for former stuntman, Jock Cranley or pro-active liberal, Sue Murry.
Beaches and Watersports: Relax and take a swim at our beaches, or go deep and scuba dive to the ocean floor.
The Great Outdoors: Explore the Blaine County countryside and bring a rifle to hunt for dangerous game, hike to the peak of the majestic Mount Chiliad, or hire a plane and parachute from on high.
Friendly Neighbours: Stop and chat with a member of The Epsilon Program for some enlightenment, or head to Blaine County, where they always extend a helping hand to outsiders.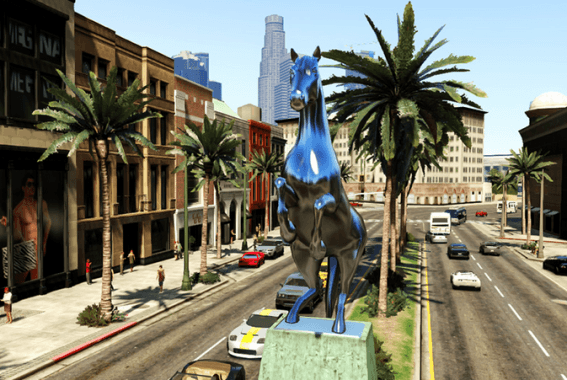 Check out the official GTAV website, for further updates on the travelogue, more screenshots and new official artwork releases featuring Michael & Franklin's heist Preparation and Trevor's acquaintance Nervous Ron.