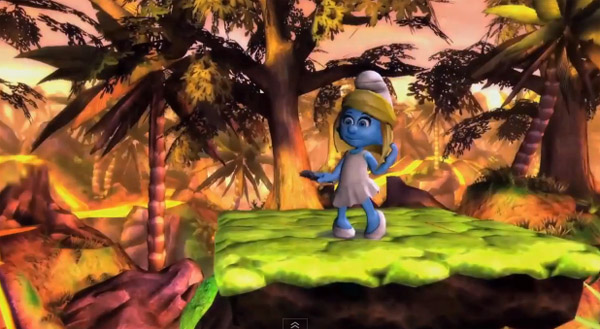 Remember the Smurfs from when you were a kid? Odds are you are too young to remember Smurfs growing up, but I'm sure most of you caught a few episodes here and there on whatever kids channel would play it. Well in recent years the Smurfs have made a bit of a comeback, first with the 2011 film, and even more prominently the iOS and Android game "Smurf's Village."
With the film sequel "Smurf's 2" set to hit theaters everywhere on July 31st, Ubisoft have taken up the sword (do Smurfs have swords? I don't think they do…) and have produced the tie-in video game. Tie-in games have this stigma attached to them for being awful, cheap cash-ins of the movie they are based on. Good news though! Smurfs 2 looks awful! Why is that good news? Because you can skip over this one and save yourself a few bucks.
I'm not even sure what you would categorise this game as, all I can tell is that you play as a Smurf and you jump over things. A picture is worth a thousand words, so check out the game's (most generic) launch trailer below. Smurfs 2 is out now for Xbox 360, Wii U, Wii, PS3 and 3DS, but do yourself a favour and buy something else… For all the video game news (good AND bad), be sure to stay tuned to Capsule Computers.