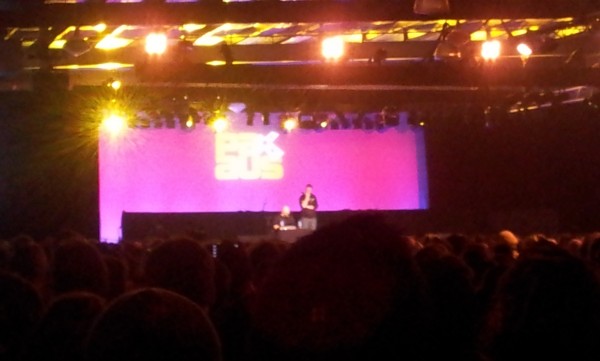 Today at the Penny Arcade Expo Australia event held in Melbourne the guys from the Penny Arcade website held a panel about making a script for their comics. The panel took place in the main hall at the expo to a full crowd of attendees.
The creators of the web comic series entered the stage after a massive light and smoke show to the cheers and applause of the crowd. The panel commenced with the guys communicating with the crowd through a series of messages left via notepad. This had the crowd pumped as the gimmick of getting things to appear legible was quite the laugh.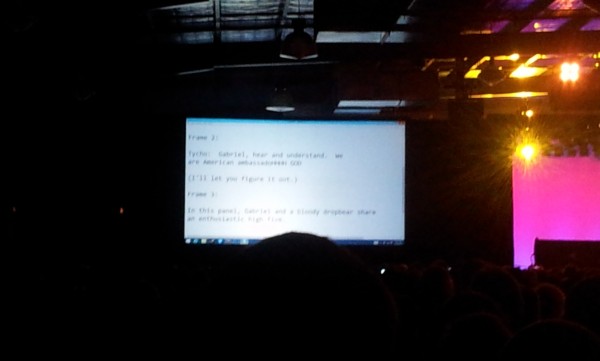 The panel was a regular Q&A session with Tycho and Gabe from Penny Arcade taking questions from the audience and answering them. Some stand out questions and answers were:
Favourite video game ever?

"Geez man, got a couple. Still have a very fond memory of Kingdom Hearts 2 […] Still really loves Ni no Kuni. [..] Planescape torment."
If you two had never met how do you think would be today?

"Happy."

I mean more like where would your writing skills be today?

He answered about how his writing wouldn't be as good and also about doing IT work that's where he would be. It's better for everybody that this happened.
Another thing that was pointed out was that they would really love to start a D&D campaign down here in Aus. If this happens, it would be amazing.
What mistake would you advise other comic creators to take that you've taken?

"Keep going when you should stop. […] As long as you've done enough you can push for this other kind of thing. [..] Start early before you know what is possible and you'd be shocked at what you can pull off."
Have you thought about helping people depression given your reach? (In reference to one of their projects dealing with depression)

"When we sorta started it out it wasn't a project, it was more of the awareness aspect you know. […] the main idea was just to get people to talk about it. […] there's something more elaborate that we could do get people to talk about it."
I stole my sisters 3DS, can you draw me a wang?

"How old's your sister? […] Yeah I'll draw her a penis."
Whilst the panel was being undertaken, the audience was also being treated to some on the fly artwork. Nobody was notified of this but we're sure everyone noticed at some point.
One story that was quite enjoyable during the Q&A was where the Penny Arcade team were talking about their D&D adventures. One adventure that sounded really Fun was where the team had this thing about some mafia dudes and dudes trying to build a dragon. I'd love to play with these guys.
The panel was an amazingly fun experience and it's evident that everyone there had a lot of fun. Hopefully this is a benchmark for the quality of panels being held this weekend.