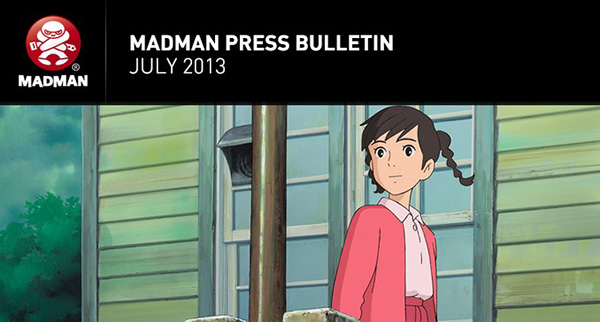 Madman has a few new releases this month that might just interest you. On the anime side you have the likes of From Up On Poppy Hill by Studio Ghibli to the long-awaited Code Geass OVA, and on the real "3D" front there's a comical take on the sport of cricket, something for cat and dog lovers and heaps more!
Anime
From Up On Poppy Hill – Set in Yokohama, From Up On Poppy Hill is a high school love story that take place in the year before the 1964 Tokyo Summer Olympics. As the country begins to pick itself up from the devastation of the Second World War, the new generation struggles to move towards a prosperous future whilst trying not to lose the essence of their past.
Code Geass: Akito The Exiled – The Wyvern Arrives – A brand new side story with all-new characters in the fan favourite, best-selling world of Code Geass.
Kenichi – The Mightiest Disciple Complete Collection – Can this weak-kneed boy become the greatest fighter alive?
Nabari Complete Collection – The ninja world is at war. Whatever.
My Little Pony: Friendship is Magic (Season 2, Volume 2) – Parties & Pets – Six of the coolest ponies in Equestria learn all about friendship in this cult favourite.
The Amazing World of Gumball – Gumball navigates through life in Cartoon Network's multi award-winning series.
Film & TV
Save Your Legs! – A comic cricket odyssey from the suburbs to the subcontinent.
The Imposter – The greatest mystery in the disappearance of Nicholas Barclay began the day he got home…
Barbara – A chilling drama and winner of the 2012 Silver Bear for Best Director.
Upside Down – Kirsten Dunst and Jim Sturgess star in this visually spectacular sci-fi story of star-crossed lovers.
Doomsday Book – An apocalyptic anthology from the directors of THE LAST STAND and HANSEL & GRETEL.
Who Do You Think You Are? – Series 5 – Australian celebrities play detective as they go in search of their family history.
Don't Forget To Write – The Complete Collection – Much sought-after BBC comedy about the perils of writing – starring George Cole (MINDER).
Marriage Lines – Richard Briers (THE GOOD LIFE) and Prunella Scales (FAWLTY TOWERS) explore the perils and pitfalls of love and marriage.
National Geographic: The Science of Cats & Dogs – The truth about cats and dogs.
Skins Series 6 – The third-generation SKINS gang returns in style!