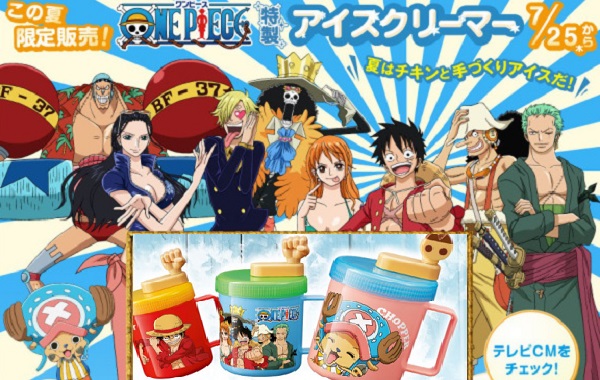 Japanese KFC customers will be getting a little extra treat when they next order their chicken. For the past five days the fast food chain have been giving out free hand held ice-cream makers themed around One Piece; one maker has Luffy, the second has Chopper (with a special hoof handle) and the third contains the entire straw hat gang.
The makers will be offered to customers who purchase one of three combo packs, each containing original recipe and crispy chicken pieces with a small side of chips. The three prices for each combo are 980 yen (9.80USD), 1,290 yen (12.90USD) and 1,430 yen (14.30USD).Ice cream can be produced by putting sugar, ice, eggs, milk and flavorings into the canister and by stirring vigorously for a few minutes using the fist shaped handle on the lid.
KFC have also incorporated other Shonen Jump characters into their food, such promotion was used when Dragon Ball Z: Battle of Gods was being premiered. Although this is one of the weirder anime/food crossover that has been promoted, the idea of making your own ice cream does sound exciting (and could be the perfect complement to Sanji's cake).