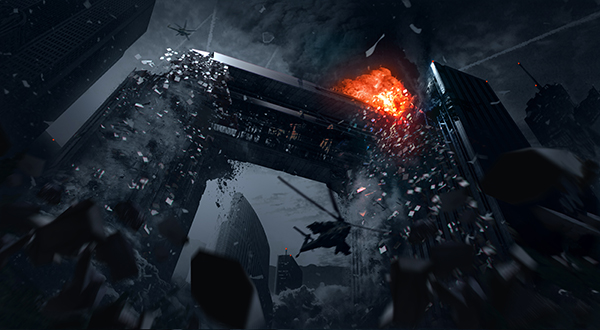 The annual Call of Duty train isn't stopping this year, and Activision has unveiled a pre-order bonus incentive to ensure fans don't miss it. Those who reserve their copy of Call of Duty: Ghosts at participating retailers will receive the bonus map Free Fall, featuring the new "dynamic map events" mechanic where the environment around the players constantly changes.
Free Fall is based on a collapsing skyscraper with intense close quarters combat and changing map geometry. You could be running past a set of windows and find yourself teetering on top of the fragile glass the next minute.
"Dynamic map events change the way players approach the game, and Free Fall does a great job illustrating this new mechanic," says Mark Rubin, executive producer at Infinity Ward. "As the match progresses, the geometry of the world continues to change and players need to adjust on the fly or else.  It's a really fun new feature that adds layers of strategy and constantly evolving gameplay options for players."
Check out the single screenshot released for the new map below. Call of Duty: Ghosts will be out this year for Xbox 360, PS3 and PC on November 5, with a release on PS4 and Xbox One planned for later this year. If you somehow missed the latest footage from E3 have a look at some gameplay here.