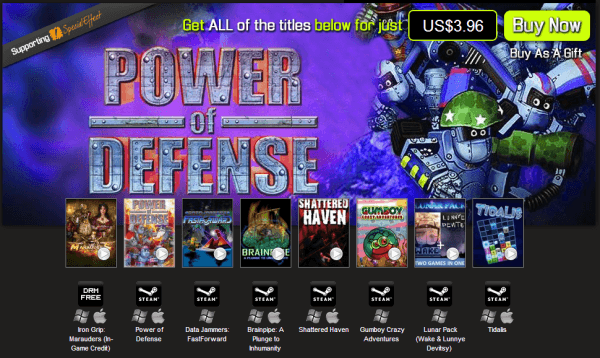 Bundle Stars, the online PC bundle retailer, has a special deal going on for gamers on July 4 – the United States' Independence Day. As a way to wish gamers a 'Happy Independence Day', they're releasing the $4 'Pure Indie' bundle.
The Pure Indie bundle features eight Steam games, five of which also work on Mac. Those games include:
Iron Grip Marauders (PC and Mac):: As captain of a horde of airship-borne raiders, players in this MMO turn-based strategy game roam the vast regions of Kathos in search of good smuggling opportunities and wealthy targets to raid.
Power Of Defense (PC and Mac): Provides a mix of strategy and tower-defense with the aim of defending the world from evil robots.
Shattered Haven (PC and Mac): Players must solve environmental puzzles under pressure and figure out how to use the tools, traps and weapons in each level to clear the Grays. 

Tidalis (PC and Mac): This block-based puzzle game is brimming over with riffs and variants with 20 game modes, dozens of special blocks and items, and 115 levels in the adventure mode alone.

Data Jammers: Fastforward (PC): This adrenalin-fuelled three dimensional driving and destruction game is set within a retro wireframe world of impossible race tracks.
Brainpipe (PC and Mac): Is an easy-to-pick-up first person game of real-time spatial navigation and quick reflexes.
Lunar Pack (PC) This double pack contains two platform games Lunnye Devitsy and Wake. In Lunnye players are tasked with helping an alien find his way home. In Wake an engineer is trapped on a sinking ship and the aim is to get him back to the surface above without getting caught or killed.
Gumboy: Crazy Adventures (PC): In this indie platform game players will use Gumboy's extraordinary rubbery characteristics – rolling, bouncing, jumping, flying, floating, and changing size, shape and material, to complete the game.

The Pure Indie bundle will be available for three weeks. You can check it out here.