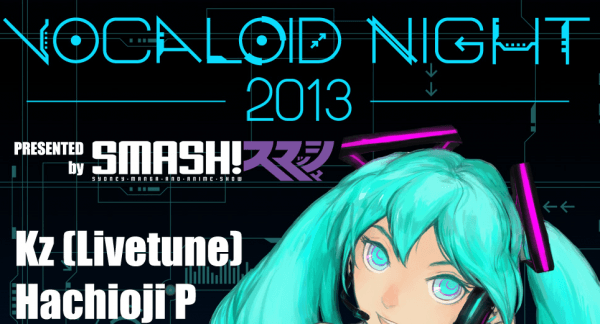 Moments ago, one of the bigger Anime conventions here in Australia, SMASH! announced that they will be hosting an Anime dance party themed on the popular Vocaloid music selection inside of Japan. This party will be held in Sydney and is open to all Anime (and non) fans aged 18 and over.
The dance party itself will be host to a wide variety of music from the immensely popular virtual Vocaloid popstar, Hatsune Miku, and will have renown Japanese DJ Hachioji P (8#Prince) providing mixes. Also at the event is another popular DJ, Kz, from the group Livetune.
The Press Release goes into great detail about the careers of both of the DJ's. We have reproduced the most relevant and interesting sections below –
Hachioji P spearheaded his career in music creation with the Vocaloid program featuring the vocals of Hatsune Miku. With a view count of over 8million, his most famous works include "Sweet Devil" and "Electric  Love", made in collaboration with MMD (Miku Miku Dance) producer Wakamura P. These music videos feature electric sounds with a dance music base, and high quality video taking him instantly into the  Vocaloid Music World's hall of fame. Ranking high with his music releases, he has gained the attention of audiences around the world with features from NHK's Weekly News, and tie-up theme song titled "Fukayomi feat. Hatsune Miku" which was used as the theme song for the show attracting over half a million views in just 5 days.

Hachioji P has also collaborated with famous creators such as kz of livetune for the Playstation Vita software "Hatsune Miku – Project DIVA – f" with the split release of "Weekender Gir" and "fake doll". More recently, he has been involved in producing work for real vocalists such as Shouko Nakagawa, Hikari Shiina. He has also done arrangement work for Kikkawa Yuu, Watanabe Mayu (AKB48) and Hirano Aya.

New Album ViViD WAVE will be released under his new record label Toy's Factory on the 17th of July.

Kz (livetune) famous for his album and single releases using the Vocaloid software and featured vocals of Hatsune Miku, first made his major debut with "Re: package" in August 2008 ranking 5th on the weekly charts in Japan. Kz has contributed to the world wide success of Hatsune Miku with his hit song "Redial" where the music video was created in collaboration with world famous designer creator Takashi Murakami. His best known work so far is undoubtedly the song "Tell Your World" that brought Hatsune Miku to theadvertising campaign in Japan for Google Chrome web browser. This song received over 1million views in the first week, and is currently at over 6.6million views.

More recently, he has collaborated with various famous artists and commercial tie-ups, composing songs for KOTOKO, ClariS, Maon Kurosaki, Ryo of Supercell, Hachioji P, Nakajima Megumi,TM Revolution, Zedd and much much more.

In June 2013 he released "Take Your Way" which includes vocals from the hit band SEKAI NO OWARI his latest work.
Vocaloid Night 2013 will be held at the Pontoon Bar in Sydney at Darling Harbour on the 10th of August. Be sure to check out the official website for ticketing and more info.