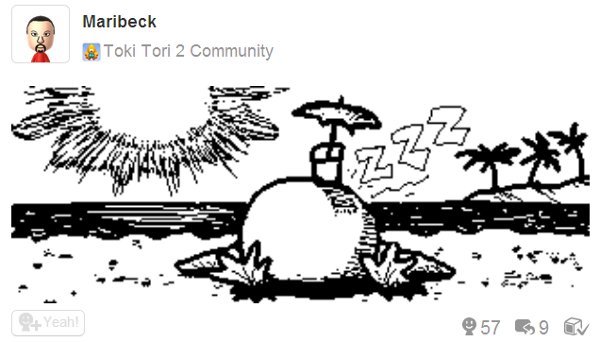 Doesn't image above just scream day off? It better because it was the winning drawing for the Toki Tori 2 Miiverse Drawing Contest Round 3. Developer Two Tribes has gone through and personally picked it as the winning drawing, which means its time for the 4th and final round of the drawing contest for fans of the Wii U game.
The theme for this last round of the contest is "Draw Toki Tori's greatest enemy!" Players wanting to take part in this round can participate by drawing what they feel best captures the theme, posting it in the Toki Tori 2 community of the Miiverse, comment on the drawing with "#contest", and finally collect lots of Yeahs. The top 25 with the most Yeahs will be in the running for Two Tribes to pick the winner.
The winning drawing will be announced July 4th and be included in Toki Tori 2. Players can check out Capsule Computer's Toki Tori 2 Review to see how it is, while Toki Tori 2+ is currently set to release on July 11th (after another delay) via Steam for PC.