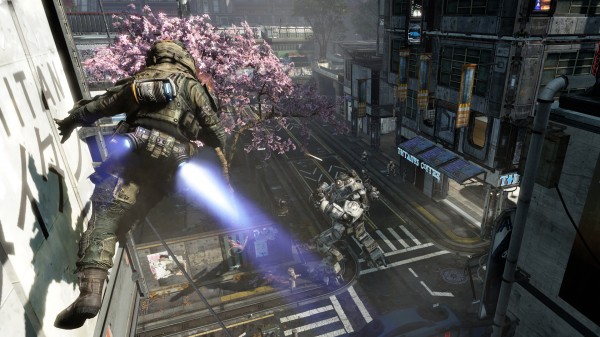 To close out Microsoft's E3 2013 press conference, Respawn Entertainment took the lid of its much speculated inaugural title, Titanfall. The E3 announcement trailer can be viewed embedded at the bottom of this article.
Years after the studio was formed, Titanfall is finally going to be coming to players in Autumn 2014, exclusive to the Xbox platforms and PC. It delivers fast-paced, near-future warfare on a distant frontier ravaged by war that is entirely multiplayer campaign based – a revolutionary multiplayer experience. On the battlefield, players will be able to switch between 24-foot tall, agile mechs and their elite, assault pilots for different tactics and levels of manoeuvrability (no, the mechs aren't invincible; you can't stay in them forever).
Vince Zampella, a Co-Creator of Call of Duty and Co-Founder of Respawn Entertainment, states;
It's an exciting time in the industry and it feels like the perfect time to be unveiling Titanfall. Our passion at Respawn is games and we are focused on bringing something exciting to kick off the next generation of software.
Titanfall Game Director Steve Fukuda added;
In addition to infusing the multiplayer experience with cinematic flavor, we've been rethinking fundamental combat and movement in the genre. Titanfall is unique in the way that it places equal emphasis on two drastically different and new ways to move and fight in a first-person shooter. The intersection of the two is a big part of what give Titanfall its iconic identity.
Hopefully the actual demonstration will be uploaded online soon and we can share that with you. Stay tuned to Capsule Computers for more about Titanfall.