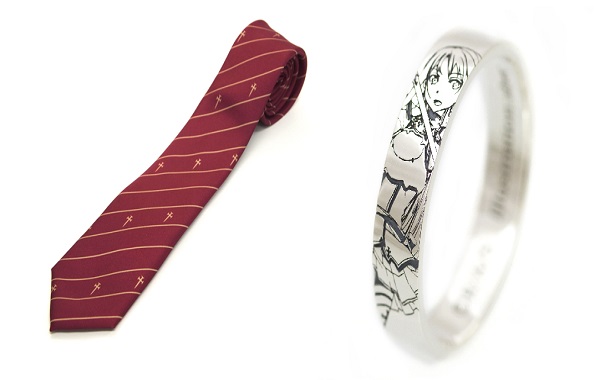 Fans of Sword Art Online will be excited to know that new merchandise will be available within the next few months, which you can display in plain sight without anyone noticing.
Japanese clothing company Cospa have produced a very stylish red SAO necktie, perfect to wear around the office or in any other business situations. The tie, despite looking like a regular everyday tie has the Knights of the Blood Emblem on the front, which fans will immediately recognize as Asuna's guild.  The tie also contains artwork of Asuna within the inner lining.
Cospa is also releasing an Asuna engraved sterling silver ring, with the female character on one side and the KoB logo on the other. The rings will come in various sizes and will be released in August. The tie will cost around 4,725 yen (47.21USD) and the ring will set you back around 8,925 yen (89.18USD). Click here to check out the Cospa website.
The popularity of the show naturally led to a vast range (although not as big as Evangelion) of products to suite every SAO fan. Such products include IPhone cases, t-shirts and figurines, but for the more extreme fans there are also dinner plates, cork coasters and collectible cards available.