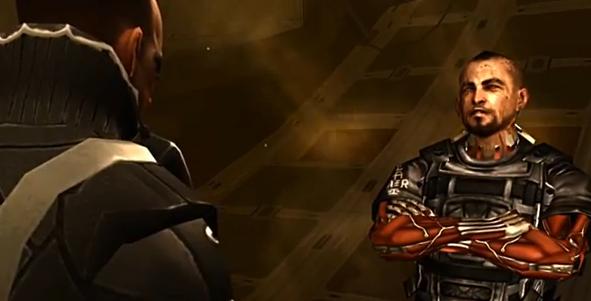 Deus Ex has been a critically acclaimed franchise for some time for Square Enix, and that looks to continue as it takes a ride to the mobile scene. Today, it was announced that Deus Ex: The Fall would be headed to mobile and tablet devices later this year, with a new main protagonist and narrative in tow.
Now, for those concerned about quality, fear not as the team from Eidos-Montréal and N-Fusion who worked on Deus Ex: Revolution will be behind the project, and will feature characters from the novel DEUS EX: THE ICARUS EFFECT.
Here are some plot points to expect in this story-driven RPG:
DEUS EX: THE FALL is set in 2027– a golden era for science, technology and human augmentation, but also a time of great social divide and global conspiracy. Powerful corporations have seized control from governments and command the drug supply needed by augmented humans to survive. In this chaos Ben Saxon, a former British SAS Mercenary who underwent physical augmentation, is desperate for the truth behind the drug conspiracy. Betrayed by his private military employers, the Tyrants, not only is his own life at risk, but for all augmented humans, time is running out…
Sounds rather enticing, and seeing a brand new tale for the series known for its twisted and captivating world. Check out the announcement trailer down below, and stay tuned as there is sure to be even more information on The Fall in coming weeks. For now, you can check out log onto www.deusex.com/TheFall or visit the Facebook page www.facebook.com/DeusEx and YouTube www.youtube.com/DeusExOfficial for your fix.