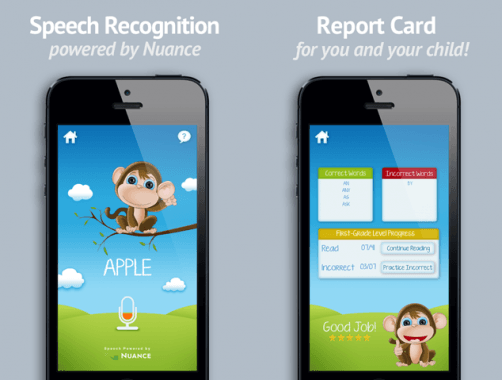 The iOS is a magical little place, filled with games for all ages, but a new title by Animagik is looking to teach your little ones lessons in reading and speech for a nice low price with voice recognition included. Sight Words – the Future of Flashcards covers young gamers with six levels of difficulty – ranging from Pre-School up to Third Grade.
Here are some further details on what to expect:
Sight Words is the very first reading app to use voice recognition to help kids learn to read! The perfect educational tool for young kids to learning to read, Sight Words is based off the renowned Dolch Sight Words List and designed from scratch with love to be both fun and effective.

Your eager reader will follow along with Miko the Monkey through progressive levels of new words, getting feedback on pronunciation automatically thanks to industry-leading speech recognition technology from Nuance™.

And not just any words: Compiled by leading educational experts, The Dolch Word List includes the most common 220 words and 95 nouns encountered in children's books. Mastering Dolch words, or sight words, is critical during the early stages of reading development.
For just $2.99, you can purchase Sight Words for the iPad or iPhone from the marketplace by following this link.
To get a better look at the program and features such as the grade settings and report card feature, check out the screenshots below.