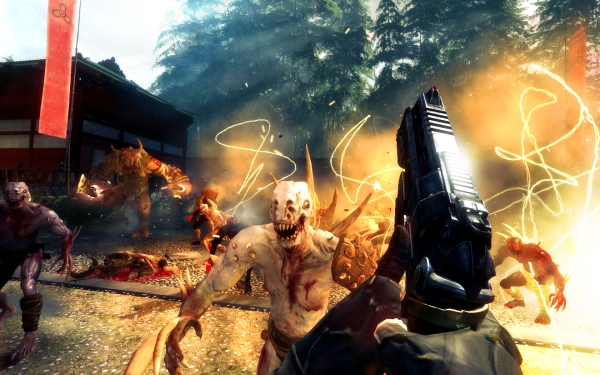 E3 2013 was a big deal for more than one reason. For the folks over at Flying Wild Hog (makers of Hard Reset) and Devolver Digital (Hotline Miami, Serious Sam 3: BFE), it was a chance to unveil Shadow Warrior, their remake on the classic snarky first-person shooter.
Shadow Warrior is back, and with some serious upgrades. Originally created by 3D Realms, the remake will be coming out for PC as well as next-gen consoles. Players will take on the role of Lo Wang, the corporate shogun of Zilla Enterprises. Ordered to track down and acquire a legendary sword, Lo is forced into a timeless battle where he learns of the blade's connection to ancient gods and another realm.
Shadow Warrior will combine guns, swords, magic, and more as Wang and his companion, Hoji, must fight to banish the forces of darkness.
To see all of the new screenshots, be sure to check out the gallery below!