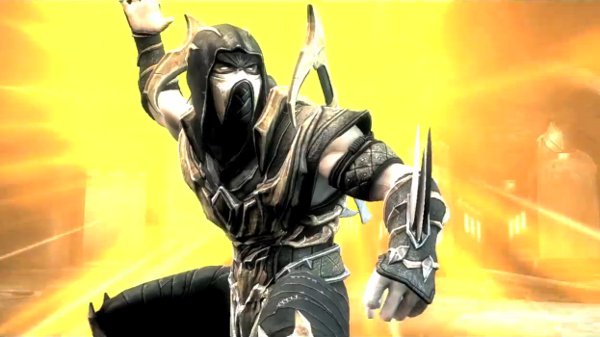 Just when players thought that the classic ninja would be getting a rest from his resurrected fighting exploits, NetherRealm Studios and Warner Bros. have decided to dredge his soul up to fight again in Injustice: Gods Among Us. Scorpion will be the next DLC character to be joining the roster among the likes of superheroes and supervillians, like Batgirl and Lobo.
Not an entirely unexpected choice for inclusion in the game, after previous crossover Mortal Kombat vs DC Universe,  Scorpion makes perfect sense as he is a fan favorite character. Players may notice he has bit of a different outfit for this outing though, having received a redesign by DC Entertainment's Co-Publisher Jim Lee.
Those wanting to see Scorpion in action taking on the likes of the DC Universe in his new duds can watch a trailer for the DLC character embedded below. Those interested in adding him to their Injustice: Gods Among Us roster will be able to purchase Scorpion for 400 MS Points on Xbox 360 or $4.99 (£3.99) for PS3. Players can find our review of Injustice: Gods Among Us HERE.