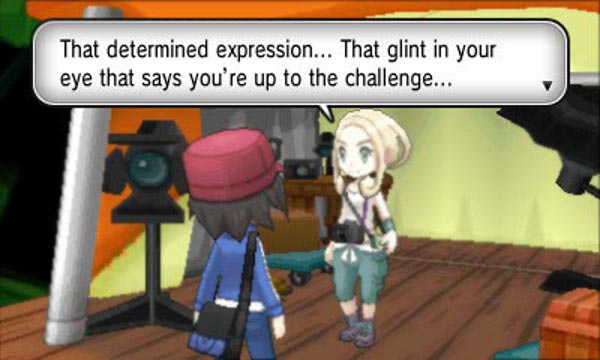 There seems to be no shortage of new information for the newest in the Pokémon games, as even though E3 has come to an end this year Pokémon Company International and Nintendo have released even more information about the upcoming Pokemon X and Y.
The main information to be released today was all about the Kalos region and the characters players would be meeting there. All living in the town of Vaniville, the player character will be interacting with a group of friends; Shauna, Tierno, Trevor, and (depending on gender) Serena or Calem. The official press release goes on to describe the friends:
Shauna is an incredibly energetic girl who is coming along on the journey to find a dream of her own. She's friendly and outgoing, and seems to genuinely enjoy all the curiosities you'll come across on your journey.

Tierno is the dancer of the group and wants more than anything to create a dance team with his Pokémon. Strong, kind, and light on his feet, Tierno gets easily distracted by watching opposing Pokémon during battles because he's too busy trying to incorporate Pokémon moves into his dances.

Trevor bursts with curiosity about the world around him. He's an excellent student, and very competitive, wanting to be the first of the group to complete his Pokédex.

Serena or Calem lives next door to you in Vaniville Town. This character has a passion to become a powerful Pokémon Trainer and sets out on the journey to accomplish that dream.
From there players will be setting off on their adventure with the first stop being Santalune City, which houses the first gym that players will have to contend through. The most interesting thing about the entire gym is that it houses a giantic spiderweb, which players will have to navigate over to meet their first gym leader, Viola (pictured above). While there will be plenty more to find out about the Kalos Region in the time to come, also released are some more names and pictures of new Pokémon, though Spewpa had been previously mentioned as the Pokémon that evolves into Vivillon.
But those newly announced Pokémon aren't all, as what good is seeing a bunch of new Pokémon if there isn't a chance to see them in action. Thankfully though, there is a new trailer showing off these new Pokémon and the Kalos Region, which players can watch embedded below. Pokémon X and Y is set for release October 12th, 2013 for the Nintendo 3DS.