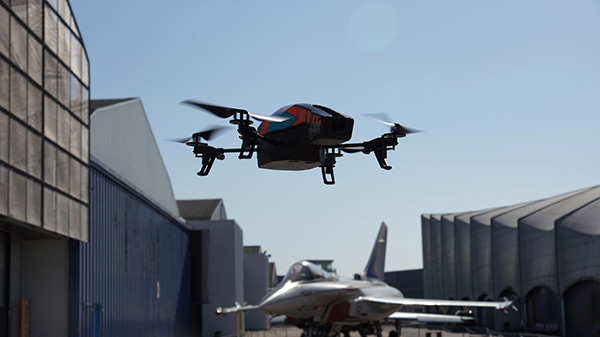 Parrot has revealed a whole bunch of cool upgrades for its revision to the revolutionary AR Drone, 2.0. The gadget sporting the tagline "further, faster, higher" will include new features such as the Flight Recorder, a 50% longer lasting battery and a Director Mode.
We've summarised the full list of upgrades below, check it!
Flight Recorder
Will be available from September 2013 for AU$119/NZ$149
Saves flight data and GPS-localised information
Saves and records position +/-2 metres of quadricopter
Data can be viewed in 3D and analysed through the AR Drone Academy maps
4GB of flash memory can record two hours of HD video
Click & Go Piloting Mode
One click on smartphone or tablet selects destination on a map
Adjust speed and altitude and drone reaches target (depending on Wi-Fi range)
Return Home Feature
One-click Home button returns drone to original departure location
Director Mode
Available through the Parrot AR Drone 2.0 piloting app for AU$4.49/NZ$5.29
Nine preset flight movements eg. forward/backward travelling, panoramic, crane, etc. with adjustable speed
Camera settings include: white balance, saturation, exposure etc.
Post-production settings improve image stability via detailed graph
Sequence editing allows you to keep or delete video cuts
All videos can be shared via the piloting app on Youtube, Facebook or the AR Drone Academy
High Density Battery

New high density Lithium-Polymer Battery allows the drone to fly non-stop for 18 minutes
Price listed as AU$79/NZ$99
Rescue Mode
Two propeller movements – random shake and over balance, can recover the drone from obstacles or trees from a smartphone or tablet device
Available for free after updating the AR Drone piloting app in the App Store
The drone itself can be had in Australian stores for around $300. A full list of technical specifications can be found on their site here.