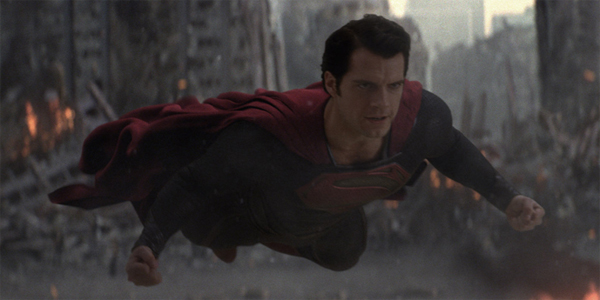 Did you guys know that a new Superman movie is coming out? No not the animated Superman Unbound, but a live-action film called the Man of Steel. I know there is one coming out because it seems that every time I turn on my computer there is a brand new trailer, TV spot, or preview video to remind me. Warner Bros. seems absolutely adamant on letting every SINGLE person in the world know that Man of Steel is coming out soon. Over the weekend the film and game publishing behemoth (you guessed it) released the TENTH TV spot for the film.
Just last week when the ninth TV spot was released, I made the comparison to an episode of The Simpsons and how many of us are gluttons, devouring every morsel we get and still demanding more. While that seems to be the way the world is nowadays, with us as viewers never being satisfied until we have seen all there is to see, I'm just beginning to worry that with all the trailers, teasers and TV spots that Warner Bros. might be reaching a point where they are beginning to kill off the buzz for their film. I mean, between all the promotional material there is almost 16 minutes of footage out there and that is more than enough for people to piece together a good chunk of the plot. I personally am still giddy with excitement for the film, but at the same time I am almost as interested to see if the abundance of promo material has helped or hurt ticket sales.
For those who are interested, you can check out TV Spot #10 below, and if you want to check out the rest of them you can head on over to the Official Facebook Page. As we gear up to the Man of Steel's release, we will be covering as much as we can (even though it sometimes seems like the WB is giving us more than we can handle) so be sure to stay tuned to Capsule Computers.