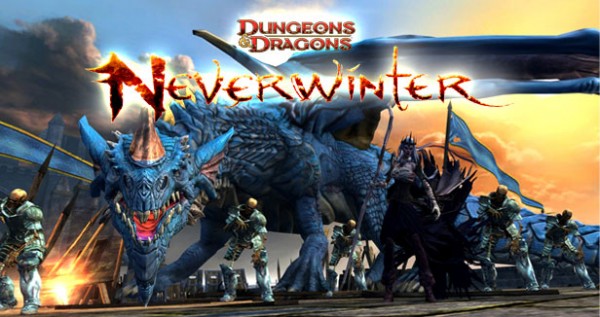 "An interview conducted with Cryptic Studios"
The free-to-play MMORPG title – Neverwinter – has seen a growing community since its open beta in April while reaching towards its official launch date on June 20th. Capsule Computers was able to reach the development team at Cryptic Studios to gain further knowledge regarding the expanding MMORPG.
---
Question 1: What is your name and position, and how have you contributed to Neverwinter?
My name is Lindsay Haven and I'm a Systems Designer on Neverwinter. I've been working on Neverwinter for over 3 years now and have contributed to many of the aspects of the combat systems as well as overhead systems such as companions, fusing, and invocation to name a few.
Question 2: If I were completely new to Dungeons & Dragons, how would you explain Neverwinter to me as an appealing game to play?
Neverwinter is a Massively Multiplayer Online Role Playing game. That means that there is a heavy emphasis on social interaction with other players and building your own unique character in game. Since Neverwinter is based on the Dungeons & Dragons IP it's a fantasy based game with Elves and Dwarves, magic and sword fighting, and Dragons and other mythical monsters.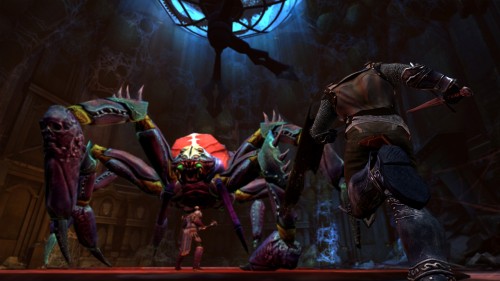 Question 3: With many online role-playing games available, how does Neverwinter stand out from the rest?
Neverwinter is easy to check out and try. All the content, from minimum to maximum level, is free-to-play and the game is free to download. This means that there is no cost to play Neverwinter. Although many games are going free-to-play sometime after their initial launch, Neverwinter was built as a free-to-play from the ground up. This makes for a smoother player experience. Additionally, Neverwinter's combat is action based. This means that players are dodging and blocking attacks from monsters, which is then combined with a simplified classic MMO power rotation. This makes combat in Neverwinter more engaging than the typical MMO or online role-playing game.
Question 4: Can you explain the licensing process in making this game a reality considering an already licensed Wizards of the Coast product – Dungeons & Dragons Online? Was it hard to establish a need for a fresh MMO?
In terms of adding a new MMO to the market, we felt that there was a lot of space in the free-to-play (and free-to-download) game space. As for a new Dungeons & Dragons game, well, most of us were pretty excited about being able to work on that, and it was something that Wizards of the Coast was pushing for as well. I think all parties involved never doubted this game had potential in the market as it is now.
Question 5: So far the races have been identified as elves, half-elves, dwarves, half-orcs, halflings, tieflings, and humans. With the coming release of the drow elves as a playable race, will Neverwinter acquire more races? Perhaps through a payment option?
There will absolutely be more playable races coming to Neverwinter. We aren't quite sure if they will be monetized or not. Though I think we will be making that decision soon, so keep an eye out for new races on our website.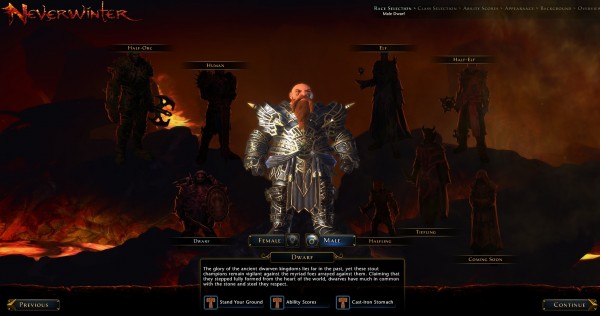 Question 6: Classes are a bit few in number at the initial release of the open beta. Can we expect more free classes to generate new characters or will they need to be purchased? Any hints to what new classes may be in the making?
We are currently working on new classes. I can't say what classes we are working on, but I can say that we are looking at the most popular class in D&D history and listening to the Neverwinter community. We have room to expand in that direction because there are a lot of classes available to us through the Dungeons & Dragons lore. At this time we don't plan on charging players for playable classes.
Question 7: As noted in one of the title's latest trailers, Gauntlgrym may be a traversable area. What has Perfect World Entertainment and Cryptic Studios done to ensure the legitimacy – lore and books – of environments such as the ancient primordial forge?
We are always looking for ways to integrate IP story into Neverwinter. For Gauntlgrym we have taken the areas directly from the the Neverwinter Campaign Setting book and getting approvals through Wizards of the Coast on the content. Gauntlgrym is a very big place; the main focus at the launch of this zone is the Iron Tabernacle area (including an ancient dwarven armory and crypts), but we may be doing other areas like the primordial forge at a later time.
Question 8: I have completed R. A. Salvatore's "The Last Threshold" recently and became immediately excited in playing a relatable story. Are you able to identify if the stories intersect – and if so, is the MMORPG a prelude into "The Sundering?
We can't really answer that at this time other than we're working with Wizards of the Coast on incorporating the evolution of the Forgotten Realms into the ongoing Neverwinter game.
Question 9: How far is Neverwinter willing to go? The name seems to localize the title in the immediate area in Faerun. Beyond the Underdark, can we expect expansions to led us into the deserts of Calimport or into the heavy winters of the Ten Towns?
The Sword Coast is a fairly big place and there is a lot we have yet to explore, so we're going to focus on that for now. We have no current plans to go beyond the Sword Coast, but that may change in the future.
Question 10: I realize I have laid the questions on pretty thick. Lastly, I would like to ask you what you have enjoyed most about your experience with Neverwinter, and why is that experience that prominent in your mind?
It's been very exciting to be able to bring to life two of my passions in a single game. Working with Wizards of the Coast to develop an exciting and immersive digital game has probably been a once in a life time experience, though I look forward to more experiences like it. And then building an MMO that's been well received is very exciting. Both of these experiences have changed the way that I approach game development and creativity because both Wizards of the Coast and an active, mostly positive, game community makes a big difference in the collaboration and direction of the game.
---
That concludes the interview with Systems Designer Lindsay Haven. Neverwinter seems to be only gaining ground in the PC free-to-play market and will be an automatic guilty pleasure for those that adore the Forgotten Realms. From what we have gathered here, future classes will potentially be part of the free-to-play package. Certain races in the future may become attainable though whether or not they will be free is up in the air. And we can be sure that Neverwinter will expand to the boundaries of the Sword Coast with only considerations to stretch further. You can rush to the city of Neverwinter's aid too by clicking (here).