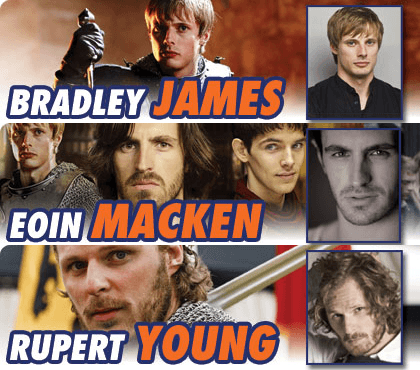 Tonight at the Supanova Pop Culture Expo 2013 Preview event, a small team of us here at Capsule Computers were able to attend a few panels.
One of these was the Merlin Knights: Arthurless panel, where a small group of the Merlin cast – listed on the right, except Bradley James was replaced by Tom Hopper – were on stage performing a question & answer session with a mostly female audience…the two male writers who attended felt extremely outnumbered, and oddly petrified.
The Merlin Knights: Arthurless panel was a rather entertaining panel to be in attendance for. The thing about these types of panels is that usually, the people anchoring the panel will talk a bit about themselves and their show, but for this particular panel, we were thrown straight into a Q&A session.
Now, with this Q&A session, we had kind of expected the large female contingency (apparently Merlin's key demographic – women of any and all ages!), but it was skewed beyond compare. This fact led to some rather interesting questions being asked of the cast members. The best example of this is when an audience member asked (paraphrased):
What's it like being in chainmail and the cold?
To which Mr. Hopper responded:
[…] I f****n' hated the chainmail […] gets really heavy and you get really depressed […]

The panel had a really great atmosphere throughout it and there were plenty more hilarious questions and answers throughout the panel; from topics such as the boys' favoured haircare products, the various pranks that would be pulled on set (Tom had his shoe hidden and was filmed searching for it endlessly) and each of their first acting gigs. Eoin claimed to play Jesus in a Nativity Scene play…at the age of 10! Jesus grew up quick!
The three showed a natural chemistry and were funny to listen to. Tom even made fun of his own character Sir. Percival's affinity for being sleeveless, and even topless around the other men on the show much of the time. Again, paraphrasing;
The guy is sleeveless half the time […] he has to be hiding something.
In regards to industry talk, the lads were asked about their upcoming projects and dream jobs. Rupert stated his love for the pressure that comes with stage acting as opposed to film or T.V., before the trio gave us some info on where we can see them in the immediate future. Tom will be featuring in a television series called Black Sails where he will be playing a pirate; Eion a show that's a "mix between M.A.S.H. and Grey's Anatomy" called The Night Shift – created by some of the same crew that worked on Breaking Bad. It will hopefully premiere on NBC by the end of the year, barring any delays.
Overall, an extremely entertaining time with some very humble, humorous guys. Oh, a lady named Wendy gave Eion a stuffed Koala to go along with his Brainy Smurf plush that he apparently carries around with him quite a bit. He said they could be "sex buddies". Yeah… that happened. Check the sire over the next couple days as we hopefully get to interview numerous guests and continue our coverage of Supanova 2013.