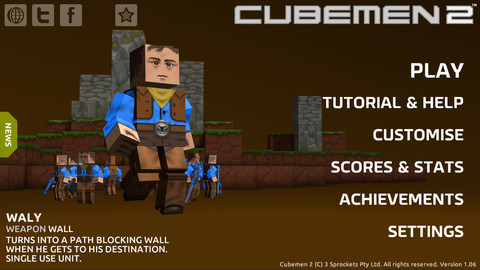 Welcome back for this week's iOS Game Suggestions. If you missed last week's, or are new to the suggestions, click on the link below and check out what cool games you should be picking up for your iOS device along with the introduction on how the suggestions work. (suggestions 1 has how it all works)
MasterAbbott's iOS Game Suggestions
A great week on iTunes! As always, it started slow and but ended with a bang! There are many must-buy games this week in all departments, FREE, 99c and over 99c. This week I've suggested a total of 16 great quality titles. Make sure you check them all especially… Cubemen2, Runaway: A Road Adventure, Kingdom Rush Frontiers, Titan – Escape The Tower, Scurvy Scallywags, Defense Technica, Bridgy Jones  just to name a few.
Break down below :
5 – FREE Games
5 – $0.99c Games
6 – Over $0.99c Games
As always for this week's suggestions are all new titles that you should take a look at and consider spending your hard earned iTunes cash / time on.  Well the Free games just below certainly should all be given a shot as they won't cost you anything!
For The Cheapskates – FREE GAMES
 
MAYDAY! Emergency Landing – Price : FREE – Publisher –

Reludo

 (Emergency Landing makes you feel like a real aircraft pilot. Face the most dangerous weather conditions and aircraft failures and fly your passengers safely home. You have just one objective: to land safely – easy to play, difficult to master. Will you make it?

) runs on iPad & iPhone.

GET IT NOW FOR FREE
 
Supreme Heroes – Price : FREE – Publisher –

EA Mobile

 (THE CITY NEEDS HEROES. Create your own superhero and engage in strategic card-style battles against fearsome foes. Your amazingly addictive comic book legend begins now. Customize your unique avatar with 1,000 costume and gear options. Evolve abilities through collectible cards and equipment. Then, unleash your alter ego to save the day!

) runs on iPad & iPhone.

GET IT NOW FOR FREE
 
Space Dog + – Price : FREE – Publisher –

Adictiz

 (The beloved dog of Facebook and Mobile users just revamped and offers new items more fun and brand new features for gaming pleasure tenfold. Discover 3 exclusives worlds: the park, the beach and the winter world! Pass the levels with your dog and unlock more than 60 new items: the destruction helmet will help you to pass through obstacles, the skateboard make you slide further and the fuse will propel you in the sky.

) runs on iPad & iPhone.

GET IT NOW FOR FREE

 
Total Domination – Reborn – Price : FREE – Publisher –

Plarium Global

 (The best MMO strategy game is now available for iOS. Over 30 million installs on the web – Total Domination™: Reborn is a standalone mobile game completely independent from the web version. Civilization has fallen, and war is now the only world-order. Rise from the ashes of the wasteland, take command, form your clan and begin your quest towards Total Domination!

) runs on iPad & iPhone.

GET IT NOW FOR FREE

 

ScribbleMix: Monsters University Pack – Price : FREE – Publisher – Disney (Play ScribbleMix, the hilarious and absurd drawing game played with friends! Draw and guess to earn coins and unlock treasure chests. Use your creative skills to scribble your way through the fun and challenging star map) on iPad & iPhone. GET IT NOW FOR FREE
For The Bargain Hunters – 99c Games
 

Bridgy Jones – Price : $0.99 – Publisher – Chillingo (Use your bridge building abilities to help Bridgy Jones and his mangy mutt Bonner drive their locomotive safely across ravines, chasms, rivers and gorges. With a handful of tools and resources, construct a bridge that'll support Bridgy and his cargo as they steam through woodlands, caves and over mountain ranges.) runs on iPhone & iPad. BUY NOW

 

Defense Technica – Price : $0.99 – Publisher – Com2us (Experience a new kind of Defense game with Defense Technica, featuring stunning 3D graphics and ground-breaking new features like path rotation, tower construction, tower upgrades, and card collection and combination!) runs on iPad & iPhone. BUY NOW

 

Scurvy Scallyways – Price : $0.99 – Publisher – Beep Games (A musical match-3 RPG brimming with pirates, ships, loot, and more gold than you can shake your rusty hook at! Move your pirate around the board by matching 3 or more tiles. With each match, the board shifts in the direction you swiped. Collect treasure as you visit mysterious jungle, desert, ice, and fire islands to reassemble a legendary Ultimate Sea Shanty. Fight to the death with evil pirates and monsters. Or, blast them with your arsenal of handy skills!) runs on iPhone & iPad. BUY NOW

 

TITAN: Escape The Tower – Price : $0.99 – Publisher – Microids (Locked up in an 80-level tower by a mad scientist, use your brainpower to help you to escape.
Armed with your pod (a cubic robot) and a metal ball, avoid the numerous traps and try to find the way out.) runs on iPhone & iPad. BUY NOW

 
Color Zen – Price : $0.99 – Publisher –

Large Animal Games

 (Color Zen is a new kind of puzzle game. One that invites you to put on your headphones, relax, and find your way through an abstract world of colors and shapes.) runs on iPhone & iPad.

BUY NOW
For The Millionaires – All games over $0.99
 

MasterAbbott's over 99c Pick Of The Week!

Cubemen2 – Price : $1.99  – Publisher – 3 Sprockets (Cubemen 2 is a fast paced, action packed, original 3D Strategy game where you use your little Cubemen units to defend and attack enemies in a range of awesome game modes including CTF, Skirmish, Territory and more.) runs on iPhone & iPad. BUY NOW

 
Syberia Part 1 – Price : $4.99 – Publisher –

Big Fish Games

 (Search a mysterious estate and find a brilliant and mysterious inventor in Syberia: Part 1 and experience the first part of this incredible trilogy! Kate Walker is a young lawyer visiting France to close the sale of a large manufacturing estate. But when the estate's owner turns up dead, Kate must search for the hidden heir.

) runs on iPad.

BUY NOW

 
Spongebob Moves In – Price : $1.99 – Publisher –

Nickelodeon

 (Dive into Day 1 of SpongeBob's life in Bikini Bottom! Move him into his Pineapple house, get a job at the Krusty Krab, and build your very own Bikini Bottom! As your town turns into a thriving undersea city, you'll unlock new characters, buildings, decorations, and areas like Jellyfish Fields.) runs iPad & iPhone. BUY NOW
 

Sparkle 2 – Price : $2.99  – Publisher – 10tons Ltd (A long time ago, five keys were created. These enchanted keys are supposed to open a lock which guards something valuable. The keys were scattered across these lands forever locked between night and day. Many have tried to search for the keys, but they still remain undiscovered. Will you be the one to unravel the mystery, or will you become yet another soul consumed by the search?) runs on iPhone & iPad. BUY NOW

CHECK OUT OUR REVIEW FOR SPARKLE 2 HERE

 

Runaway: A Road Adventure – Price : $5.49  – Publisher – Bulkypix. (Brilliant science student Brian is getting ready to join the prestigious UC Berkeley, but his life is turned upside-down when he gets caught up in some business involving a stolen crucifix and the mafia. Runaway is now available for iOS platforms, so discover or rediscover the beginnings of this cult series and plunge into an adventure with plenty of humor and twists at every turn.) runs on iPhone & iPad. BUY NOW

 

Kingdom Rush Frontiers – Price : $2.99  – Publisher – Ironhide Game Studio. (Bigger and badder than ever before, Kingdom Rush: Frontiers is a whole new level of the furiously fast, enchantingly charming gameplay that made the original title an award-winning hit. Tap your troops through an epic (mis)adventure as you defend exotic lands from dragons, man-eating plants, and ghastly denizens of the underworld -all with flashy new towers, levels, heroes, and more goodies to help you crush your foes to a pulp.) runs on iPhone & iPad. BUY NOW
There you have it folks these games should keep you busy for quite some time well until next week at least. I'll be back next week for another dose of iOS goodness, in the meantime if you would also like to suggest your own suggestions, please feel free to share them in the comments section below or in the iOS forum section on the site here.
Remember kids, Play Hard Or Don't Play At All!