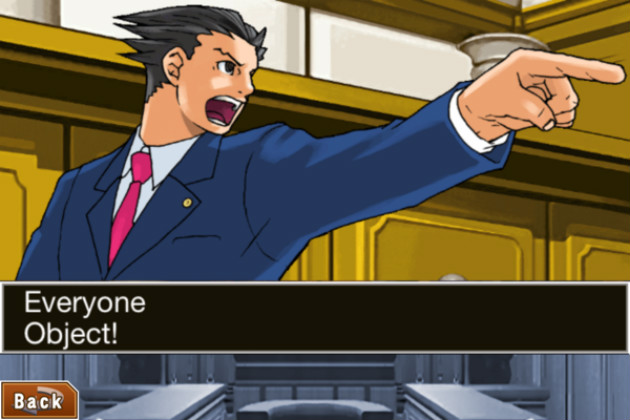 Welcome back for this week's iOS Game Suggestions. If you missed last week's, or are new to the suggestions, click on the link below and check out what cool games you should be picking up for your iOS device along with the introduction on how the suggestions work. (suggestions 1 has how it all works)
MasterAbbott's iOS Game Suggestions
A great week on iTunes! As always, it started slow and but ended with a bang! There are many must-buy games this week in all departments, FREE, 99c and over 99c. This week I've suggested a total of 18 great quality titles. Make sure you check them all especially… Ace Attorney: Phoenix Wright Trilogy,  GOL: Legend, Incredible Jack, Warhammer Quest, Shelter, World War Z  just to name a few.
Break down below :
7 – FREE Games
4 – $0.99c Games
7 – Over $0.99c Games
As always for this week's suggestions are all new titles that you should take a look at and consider spending your hard earned iTunes cash / time on.  Well the Free games just below certainly should all be given a shot as they won't cost you anything!
For The Cheapskates – FREE GAMES
 

MASTERABBOTT'S FREE GAME PICK OF THE WEEK!

Ace Attorney: Phoenix Wright Trilogy HD – Price : FREE – Publisher – Capcom (Defend the innocent and save the day! Experience the original trilogy in clear, Retina-quality graphics, and play in the orientation of your choosing — horizontally for larger backgrounds or vertically for one-handed playing!) on iPad & iPhone. GET IT NOW FOR FREE

 
Apoc Wars – Price : FREE – Publisher –

Mogage

 (The world has blown itself to bits and resources are scarce. For survivors, it requires guts, scrap resources, and precious ammo to keep the hordes in check. That means you better become an expert at raiding enemy bases for precious loot. Do unto others before they do unto you! And if someone takes your stuff, it's not the end of the world. That already happened! Send your tanks and get it back.

) runs on iPad & iPhone.

GET IT NOW FOR FREE

 
Build it! Miami Beach Resort – Price : FREE – Publisher –

G5 Games

 (Ready to build your own coastal resort city? Start small in the early 1920s with simple bungalows and develop it over time into a cosmopolitan boomtown! During the course of sixty years, you will get to construct glittering hotels, fabulous restaurants and chic boutiques, but you'll also need to manage repairs, deliveries, remodeling and much more.

) runs on iPad & iPhone.

GET IT NOW FOR FREE

 
Run That Town – Price : FREE – Publisher –

Australian Bureau Of Statistics

 (Have you ever thought your local area could be run better? Well, why don't we put you in charge? Run That Town is a strategy game with a twist – it lets you take control of any neighbourhood in Australia. Use real Census data to discover who's who in your area, and make decisions that will sway popular opinion in your favour.

) runs on iPad & iPhone.

GET IT NOW FOR FREE

 
Crazy Tribes – Price : FREE – Publisher –

XYRALITY

 (Play Crazy Tribes now, and become one of the most feared Dukes in the wastelands! Recruit lots of crazy units and use your army to subdue the post-apocalyptic lands. Send your troops into battle against thousands of other players, and make the world tremble with fear at the mention of your name. Join strategic alliances with other players, and trade precious resources.

) runs on iPad & iPhone.

GET IT NOW FOR FREE

 

Spellcraft School Of Magic – Price : FREE – Publisher – Appy Entertainment (As a student of our school you will harvest exotic ingredients, brew sorcerous spells and journey into the endless depths of a deadly dungeon! Defeat fearsome monsters, discover valuable treasures and use magical artifacts to boost your powers!) on iPad & iPhone. GET IT NOW FOR FREE

 
My Mine – Price : FREE – Publisher –

Cerasus.media

 (Gold nuggets, diamonds and rare jewels are rolling down the conveyor belt, and they all belong to you! Your mission: Beat the high score in under 2 minutes! Bundle matching objects using the finger-swipe before they fall off the conveyor belt. Magical boosts help you along in this action-packed, addictive adventure!

) runs on iPad & iPhone.

GET IT NOW FOR FREE
For The Bargain Hunters – 99c Games
| | |
| --- | --- |
|   | GOL: Legend – Price : $0.99 – Publisher – D&D Dream Corp (G.O.L is a game that provides you with a variety of experiences. You play G.O.L using a simple touch interface. There are 3 episodes, which contain numerous stages. Each character has their own unique comical actions and endings, making the game much more fun. Also, you can compete with your friends as well as people from around the world for leaderboard rankings via the game center.) runs on iPhone & iPad. BUY NOW |
| | Incredible Jack – Price : $0.99 – Publisher – Chillingo (Set out on an incredible journey in this classic game full of old school platform action. Help Jack, a courageous Timbergrote, rescue his family by exploring seven worlds, jumping on foes and solving puzzles. Reunite Jack with his loved ones and bring an end to the underground demons' evil plans.) runs on iPad & iPhone. BUY NOW |
|   | Little Chomp – Price : $0.99 – Publisher – Clutchplay Games  (One part classic platformer, one part physics puzzler, Little Chomp challenges you to brave three unique worlds in a quest to chomp the tastiest fruit and collect the rarest butterflies. Take aim, fling from leaf to leaf, spring off mushrooms, collect all the loot and solve every challenge, all while dodging dangerous enemies in this fast-paced touchscreen climber!) runs on iPhone & iPad. BUY NOW |
|   | Pixoban – Price : $0.99 – Publisher – Mark Alexander (Pixo has been abducted by dirty aliens! Can you help him tidy up their ship? In this retro-styled sokoban game your task is to help Pixo tidy up the alien ship by placing all the crates of rubbish on the airlocks so the aliens can blow them out into space. But the crates are too heavy to pull and can only be pushed through the ships corridors, so take care not to box yourself in!) runs on iPhone & iPad. BUY NOW |
For The Millionaires – All games over $0.99
 

MasterAbbott's over 99c Pick Of The Week!

Warhammer Quest – Price : $5.49  – Publisher – Rodeo Games (The first Warhammer game to arrive on iOS. Lead your group of brave adventurers through the perilous dungeons of the Warhammer World in the search
for wealth and glory! Based on the classic tabletop game, Warhammer Quest is an addictive mix of role-playing and strategy. Level up your party of heroes. Loot weapons, armour and mysterious artefacts from fallen enemies. Crush Orcs, Goblins, Trolls and more ferocious enemies!) runs on iPhone & iPad. BUY NOW

Shelter – Price : $1.99  – Publisher – Christopher Roberts (Shelter is an exciting new zombie card game. Playing like a hybrid of a collectible card game and the castle defence genre, Shelter will provide you with hours of challenging play. Defend yourself from the zombie onslaught as you fight to be reunited with the woman you love. You define your strategy, but be warned…) runs on iPhone & iPad. BUY NOW

 
World War Z – Price : $5.49 – Publisher –

Paramount Digital Entertainment

 (Get dropped into the middle of the World War Z chaos! Featuring 28 visceral levels, intense combat, engaging puzzles, upgradable weapons and armor, and unlimited challenge mode. The World War Z game challenges you: play to survive.

) runs on iPad.

BUY NOW

 
Star Wars: Knights Of The Old Republic – Price : $10.49 – Publisher –

Aspyr Media

 (It is four thousand years before the Galactic Empire and hundreds of Jedi Knights have fallen in battle against the ruthless Sith. You are the last hope of the Jedi Order. Can you master the awesome power of the Force on your quest to save the Republic? Or will you fall to the lure of the dark side? Hero or villain, savior or conqueror… you alone will determine the destiny of the entire galaxy!) runs iPad. BUY NOW
 

Daddy Was a Theif – Price : $1.99  – Publisher – Cezary Rajkowski (Bank staff is usually friendly and polite. This time something went wrong! Gain as much money as you can! Hurry! Everyone try to catch you, but you are clever, aren't you? Find combo speed boosts, shortcuts and grab power-ups to survive.) runs on iPhone & iPad. BUY NOW

 

Blip Blup – Price : $1.99  – Publisher – ustwo. (BLIP BLUP is an addictive conundrum of coloration that will consume your thoughts and occupy your dreams. You must carefully consider each move in order to fill every tile with color – 140+ perplexing puzzles await your brainpower!) runs on iPhone & iPad. BUY NOW

 

Stickman Base Jumper – Price : $1.99  – Publisher – Robert Szeleney. (Pack your parachute and jump down the highest buildings in the world and experience the amazing feeling of Stickman Base Jumper! Estimate your run up and perfectly time your jump off to glide through the air, perform insane proximity flights, jump in darkest nights, defy heavy winds and make perfect landings when deploying your parachute. Immediately share your performed jumps or spectacular crashes and impress your friends with the integrated video replay and share feature.) runs on iPhone & iPad. BUY NOW
There you have it folks these games should keep you busy for quite some time well until next week at least. I'll be back next week for another dose of iOS goodness, in the meantime if you would also like to suggest your own suggestions, please feel free to share them in the comments section below or in the iOS forum section on the site here.
Remember kids, Play Hard Or Don't Play At All!