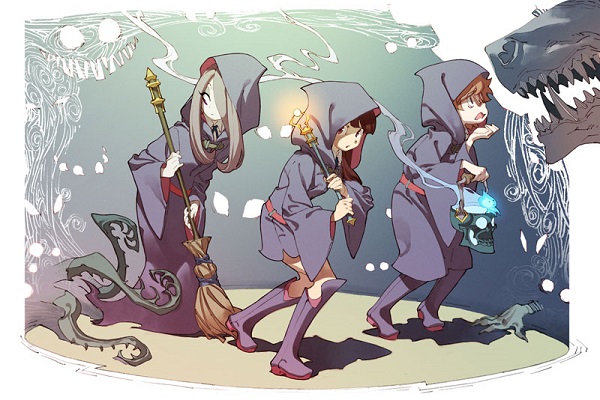 Remember acttil? The company formed a little over a month ago by a handful of previous NIS America workers? Well today they have announced their first project which will be to help promote a new anime release for North America. The anime in question? Little Witch Academia.
For those who don't know, Little Witch Academia is a twenty six minute anime which focuses on a human girl who wants to become a "cool" witch. The anime short was released online earlier this year and you can still check it out below along with a number of images from the show, but in response to fan reaction overseas, the animation studio TRIGGER has decided to create a Collector's Edition of Little Witch Academia.
As such, TRIGGER will be releasing this Collector's Edition sometime this summer. The Little Witch Academia Collector's Edition will contain a Blu-ray version of the anime and will feature Japanese voice work with English subtitles (as well as many other available languages), a 66 minute "Making-of" video, an original soundtrack CD and a large 112 page art book.
Currently no price or exact release date has been given for Little Witch Academia but acctil will be holding a special Fan Event during Anime Expo 2013. The event will include writer Masahiko Otsuka and will be held on July 6th at 2PM, but be careful, only 50 people are being let in and to be one of these 50 you must submit your full name, address and phone number to contest@acttil.com by June 26th. The fifty selected winners will be contacted on June 30th for their chance to attend the fan event.
Update: acttil has clarified that it is actually the animation studio TRIGGER releasing Little Witch Academia's Collector's Edition in the United States and acttil is simply helping promote and advertise the release.