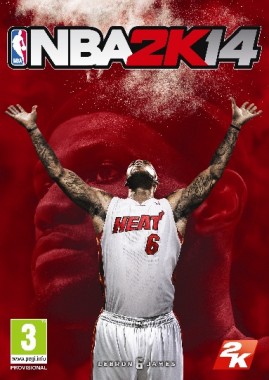 After becoming the 2013 NBA MVP, Lebron James will also be awarded the cover spot on the upcoming NBA 2K game, NBA 2K14.
This is the first appearance on Lebron 'King' James on a video-game cover and to celebrate there will be a special 'King James Edition' of NBA 2K14 also released. The following content is available as part of the 'King James Edition':
10,000 Virtual Currency to get a jump start on the competition;
Extra content for the new Path to Greatness mode;
LeBron James unlocked in Blacktop Mode;
The all-new LeBron James Signature Skill available for your MyPlayer.
The game's boxart can be seen to the right showcasing Lebron James in a victorious pose, presumably after winning a match.
NBA 2K14 will be released on the 4th of October, 2013 on Xbox 360 and PlayStation 3 with releases on Xbox One and PlayStation 4 to follow.