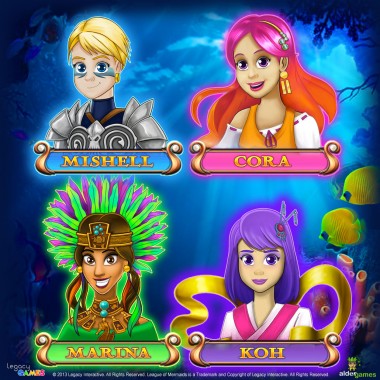 The developers of League of Mermaids has recently announced that they have opened up a blog for their game, League of Mermaids. The title is the successor to the hit mobile game, Atlantis: Pearls of the Deep and is developed by Alder Games.
In League of Mermaids, players must "Match 3", but can also mess with their opponents by placing items strategically. Through the use of physics, players drop items in an attempt to "Match 3" and achieve victory. It is assumed that this is harder than it sounds.
Legacy Games, the game's publisher, lists the following as the games features. These can be seen in the quotebox below:
League of Mermaid's features include:
·         Deep and Challenging Gameplay – 45+ all-new levels to clear and master, with new levels upcoming in free updates.
·         Strategic Elements – Players can use obstacles like wheels and other objects to move around the pearls in a fun, physics-based engine made popular with Atlantis: Pearls of the Deep. Players can earn the Three-Star Ranking by completing optional goals in every level, thereby unlocking new power-ups, levels and game modes.
·         New Power Ups – New features include powerful new ways to clear pearls, such as the Artifact Meter and Crystal Hearts
·         Play Zen mode and the unique Bottomless Trench – Play randomized levels in Zen Mode for unlimited replay. The unique Bottomless Trench fills a stage with never-ending pearls and challenges players to clear as many pearls as possible within a time limit.
·         Epic New Saga – Join with the League of Mermaids to save their home.
·         Additional Languages – English, French, Italian, German, Spanish, Dutch, Brazilian Portuguese, Swedish, and Japanese.
Be sure to check out the Official Website for more info.