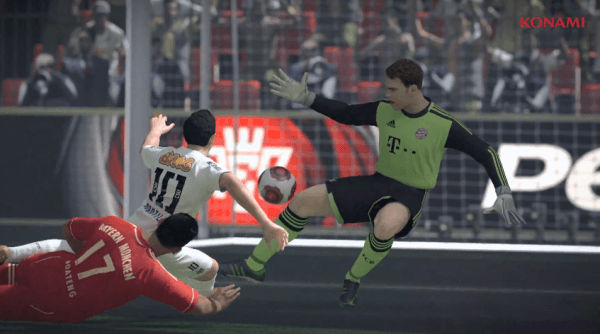 At E3 2013, Konami unveiled the newest trailer for the upcoming installment of their key soccer franchise, Pro Evolution Soccer 2014. Shown off in the newest trailer are two of this year's biggest features, Trueball Tech and M.A.S.S. With an all-new engine, these will allow for the most comprehensive advance in the series since its inception.
According to Konami,
"…Trueball Tech allows the player to trap or knock on a pass using the analogue stick with detailed bar-centric physics determining the weight shift of the player and the height and speed of the pass, as to how the player's body will automatically shape to receive it…."
And of the M.A.S.S.:
"Motion Animation Stability System (M.A.S.S.): The physical combat between players is a vital part of a match, and the new M.A.S.S. component simulates the bodily contact between multiple players within tailored animations that segue seamlessly into each other.  …"
What this all basically rolls up to mean is that player and ball interaction will look and feel better, making for a better overall experience for the players in the end.
To check out Trueball Tech and M.A.S.S. in motion, be sure to check out the full video below this article.