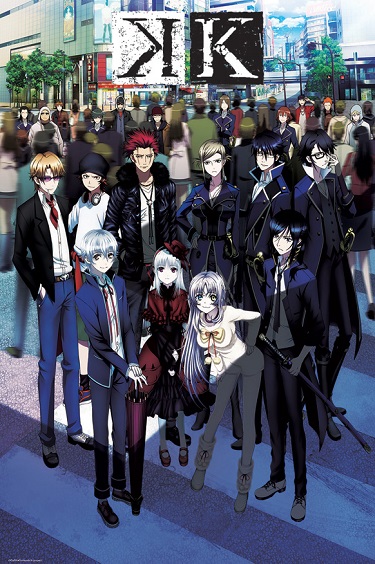 Today Viz Media announced that they will be celebrating their newest anime property K, during Anime Expo 2013 by creating a special "K Day" which will happen on Friday July 5th. This K Day will see Anime Expo Industry Guest and official Fushimi cosplayer from Japan KANAME☆ appearing throughout the day, The English language voice actors for the anime, Patrick Seitz (voice of Reisi Munakata), Stephanie Sheh (voice of Neko), Matt Mercer (voice of Kuroh Yatogami) and Keith Silverstein (voice of Mikoto Suoh) will also be in attendance.
During this day fans can attend a special world premiere of the first and second episodes of K in English. This premiere will occur at 11:15am in Room LP1 and at 12:15PM, directly after the premiere in the same room, Josh Lopez, the Viz Media Dub Producer for K, will join the staff for a Behind the Scenes Q & A on bringing the anime to North America and at the end of the panel, all fans in attendance will get a special commemorative Neko character fan.
The company will continue the celebration with a special autograph session with the aforementioned K English dub cast from 2:30-3:30pm in the Anime Expo Autograph Area and everyone who attends will net the premium poster which you can see to the right. To top this off, a special photo opportunity will be held at the VIZ Media booth (#1501) with K cast and staff, including Johnny Yong Bosch and the K cosplayers of ACParadise.com. Attendees that show up in K Project cosplay will receive a special gift. Finally, end the day with a photo op with KANAME☆ at the VIZ Media booth K wall at 5:30pm.