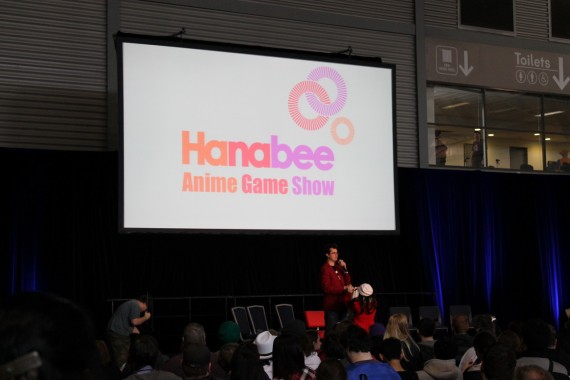 Imagine if you will; it's a rainy Sunday at the Sydney Supanova Expo, fans are wet from the downpour and looking for salvation in the dome hosting the expo, the fans enter but they are met only with a battle of epic proportions! Two teams went head to head on the main stage for the prize of ultimate glory! Ok, so it wasn't THAT epic, but it was still something really cool!
This year at Supanova Sydney the anime distributor Hanabee had an anime trivia session organised where two specially picked teams would face off on the main stage using their greatest weapons…knowledge of anime! The session went for a good half an hour and hosted five different rounds of questioning e.g. a multiple choice round, a lightning round, etc. The teams were made up of three special anime fans that were chosen and the winners of the challenge got themselves a $100 Hanabee gift card which they could use to buy…well…Hanabee products! The losers, well, they went home with nothing but shame…no Hanabee gave them a $50 gift card for trying their best and participating so nobody really went home a looser.
The questions were all anime based and could've been almost about anything. One of the questions was based on the series Digimon Frontier and another was based on the series K-On! so it just goes to show the range of knowledge the contestants would've had to have to get ahead. At the end of the day it was the team on the announcers left that went away the victors with their $100 Hanabee gift card and the loosing team just with their $50 gift cards. The audience had fun and so did the contestants and really isn't that all that matters? No. Winning is all that matters, winning and free anime.
You can see all the pictures from the Hanabee Anime Game Show below in the Image Gallery and don't forget to hit up our comments section below and drop us a line.