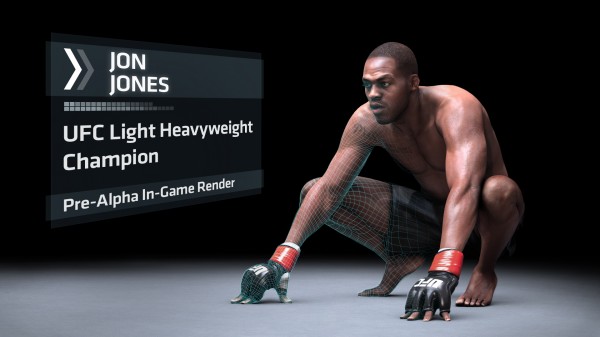 Powered by the new EA Sports Ignite engine, EA is looking to set the bar for character likeness in a fighting game with EA Sports UFC – the first trailer of which can be seen here – and have released three fresh renders right out of E3 2013 (keep in mind, these are all pre-alpha).
The first is of UFC Light Heavyweight Champion, Jon "Bones" Jones (seen above). Here's a little biography:
When Jon 'Bones' Jones beat Mauricio 'Shogun' Rua to win the UFC Light Heavywieght Championship, he became the youngest champion in UFC history. Five title defenses later, Jones is one of the biggest stars in the UFC and we're proud to welcome him to the EA SPORTS UFC Fighter Roster.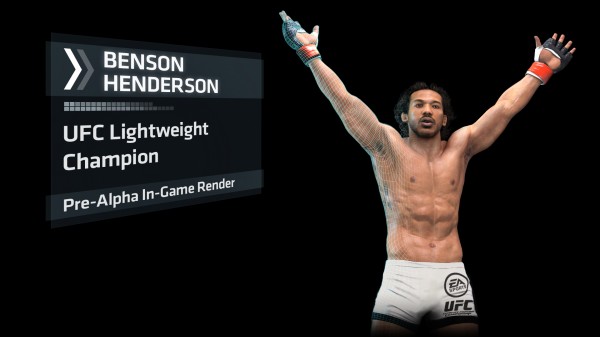 Second is UFC Lightweight Champion, Benson "Smooth" Henderson. He, along with Jon Jones and UFC President Dana White, appeared on stage during the EA Press Conference to introduce the game. His background:
From Colorado Springs, Colorado with a record of 18-2-0, we're excited to have UFC Lightweight Champion Benson Henderson be one of the first fighters revealed for the EA SPORTS UFC Fighter Roster. Named the UFC's 2012 Fighter of the Year, Henderson is one of the most exciting fighters in all of MMA.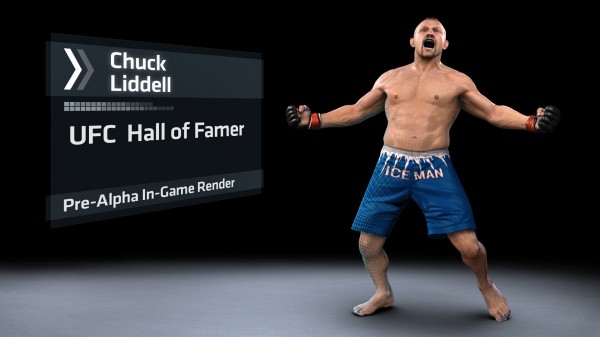 And finally, we have the legend Chuck "Iceman" Liddell. A UFC Hall of Famer and fan favorite for his aggressive, stand-up style.
The epitome of a UFC 'Hall of famer', Chuck 'The Iceman' Liddell has the second most career knockouts in UFC history, behind only Anderson Silva. Liddell held the Light Heavyweight Championship from April 2005 to May 2007 and is largely considered to be the greatest fighter in that weight class of all-time. We're honored to have a legend like Chuck Liddell join the EA SPORTS UFC Fighter Roster.
I think you'll agree that the models look great, but the true test is seeing them in real, in-game action. Hopefully we witness some gameplay soon. Stay tuned to Capsule Computers for all future updates of EA Sports UFC.