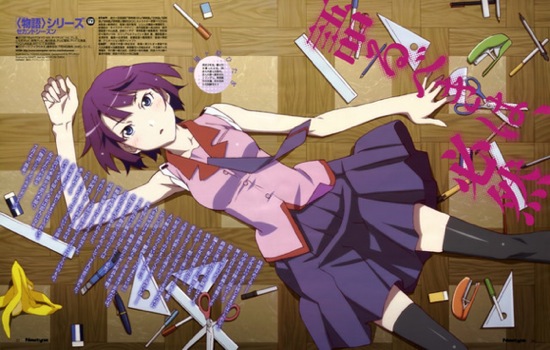 Anime streaming service DAISUKI.NET has announced Monogatari Second Season as its first simulcast title, set to premiere on July 6, which will be streamed a few hours after its Japanese TV debut. In partnership with Aniplex of America, the show will be exclusively streamed in HD with English subtitles for free.
"We want to provide the newest content from Japan, as well as classic ones", says Kunihiko Shibata, President of DAISUKI Inc. By using a survey system, DAISUKI does indeed offer older classics if users vote for them.
The site currently offers Puella Magi Madoka Magica, Sword Art Online, Mobile Suit Gundam SEED, Mobile Suit Zeta Gundam, Lupin the 3rd, and The Prince of Tennis OAV series. Beginning with the simulcast of Monogatari Second Season, the previous series will also be streamed: Bakemonogatari, Nisemonogatari and Nekomonogatari (Black).
Region-locking will unfortunately continue to exist in the anime industry, with Monogatari Second Season and Nekomonogatari (Black) viewable in the US, Canada, United Kingdom, Ireland, Australia, New Zealand and South Africa. Bakemonogatari and Nisemonogatari will be available in the US, Canada, United Kingdom, Ireland and South Africa.
Additionally, DAISUKI has announced it will be attending Anime Expo 2013, July 4-7 at the Los Angeles Convention Center, United States. Those attending the expo can visit them at their booth and their first industry panel on July 4, 18:15 in room LP2 with a Q&A session and a special screening of Nekomonogatari (Black), which will be shown with English subtitles for the first time.
Studio Shaft Director Mitsutoshi Kubota will be the special guest of the panel and attendees will receive a free T-shirt while supplies last.
Finally, DAISUKI is planning on launching its paid, e-commerce platform in late June 2013. Another special giveaway will be held to mark the occasion where winners will be announced after each round, totalling 1,000 participants. Each registered user may enter once every 24 hours.