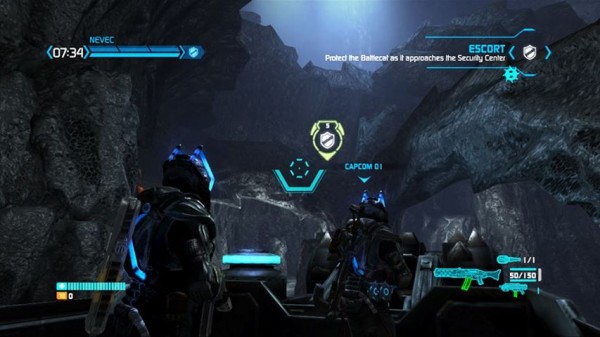 At a special preview event at The Ice Tank in London, England, Capcom not only unveiled the multiplayer component of the upcoming Lost Planet 3, but put it in the hands of attendees.
The video embedded at the bottom of this article is your first look at the game's multiplayer modes. In the clip, Producer Andrew Szymanski, whom we previously interviewed, describes the new progression system – just one aspect that makes Lost Planet 3's multiplayer different from its predecessors. There's considerable focus on the conflict between the snow pirates and NEVEC – which fans of the series will be familiar with – and how the inclusion of multiplayer allows gamers to embody both sides of the conflict.
Though not clarified in the video, the gameplay footage shown looks to be from the Akrid Survival and Scenario Mode game types (detailed here) as well as from possibly a new mode including a version of King of the Hill. We got our hands on the single player portion a while back and were pleasantly surprised and impressed by the tone and feel of the game in general. The Alien-esque music at the start of the below video echoes our comparisons of the game to the film in those hands-on impressions, at least in atmosphere. Lost Planet 3 comes out Down Under on August 29.