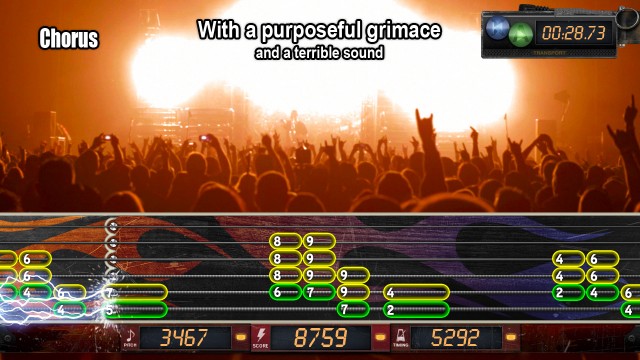 BandFuse: Rock Legends gets a new trailer at this year's E3 and it rocks! The new trailer centers around Grammy-award winning band Halestorm and their song "Love Bites…(So Do I)".
BandFuse: Rock Legends by Realta Entertainment Group is a new music game coming to the Xbox 360 and PS3 that allows players to use real life instruments including guitars, bass guitars and microphones to play the game. The game has a number of difficulty levels to cater to the player's previous experience so anyone can be playing their favourite songs in a number of minutes.
A large cast of rock legends are joining the game, including Slash from Guns N' Roses, Zakk Wylde former lead guitarist for Ozzy Osbourne and the founder of Black Label Society, bass legend  Bootsy Collins. These rock legends help guide the player as they master their skills and become a legend themselves. Other bands have lended their music to the game including Coldplay, Slash, Rush, Judas Priest, Maroon 5, and Five Finger Death Punch. The game will feature over 55 tracks from all types of rock genres including punk, metal, hard rock, funk and more.
Check out the trailer below if you want to have Love Bites…(So Do I) stuck in your head all day. You can visit the BandFuse Official Website for more information on the game.