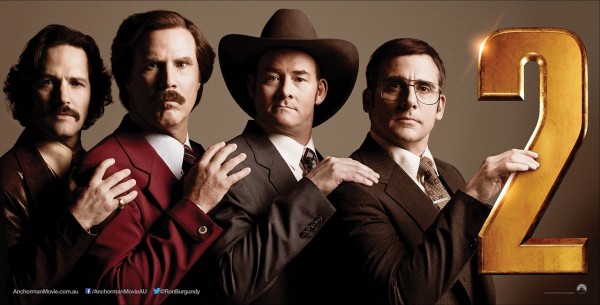 "Say whaaat?!" Ron Burgundy and the Channel 4 News team is going to be gracing the silver screen once again this year and we've got a great teaser trailer to share with you in celebration, courtesy of Paramount Pictures.
Announced more than a year ago on the Conan show after much clamouring, Anchorman 2: The Legend Continues is "kind of a big deal!" The aforementioned 90 second teaser can be seen embedded at the bottom of this article. Here is the first official synopsis for the film:
With the 70's behind him, San Diego's top rated newsman, Ron Burgundy (Will Ferrell), returns to the news desk in "Anchorman 2: The Legend Continues." Also back for more are Ron's co-anchor and wife, Veronica Corningstone (Christina Applegate), weather man Brick Tamland (Steve Carell), man on the street Brian Fantana (Paul Rudd) and sports guy Champ Kind (David Koechner) – All of whom won't make it easy to stay classy… while taking New York's first 24-hour news channel by storm.
Also check out the movie's newly-started Tumblr page for all the memes and gifs you can handle! Oh, and don't be alarmed by the poster below. After all, ladies love the stache…it's a scientific fact!