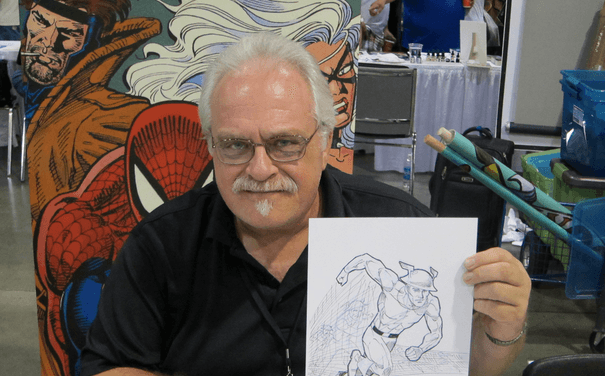 Alex Saviuk brought to Supanova 2013 a memorable seminar that covered the webs of his artistic history since 1977, drawing masked superheros in the comic book industry, from freelancing The Green Lantern at DC Comics to establishing his career at Marvel as the key Spiderman artist.
Before the host could introduce the guest star, Alex began telling the audience about his special comic project opportunity, offered by Marvel's previous art director, John Romita Sr., which led to him drawing a 32pg sequential art story of Spiderman, involving a green goblin and a dentist. Alex mentioned, "at that time free comic books were given with toothpaste at the dentist". Definitely the best way to attract new customers.

Not long afterwards, in 1986, Alex left DC Comics for Marvel, to undertake more work and help out with projects, such as Jim Shooter's 'New Universe', created in honour of Marvel's 25th Anniversary. I was surprised to discover that Alex turned down an assistant position to work on The Phantom newspaper comic strip with Sy Barry. However, during this period and for the next 7 years, Alex worked on inking and pencilling Spiderman in the issues Web of Spiderman, Adventures of Spiderman and The Amazing Spiderman.

The seminar ended with Alex discussing his current work on The Phantom, his most favourite comic book character, within Australia for Frew and in Sweden for Egmont. With the success behind this incredible comic book artist, it made perfect sense for his Phantom logo to appear on this year's Supanova t-shirts.
Don't miss out on Alex Saviuk's latest published stories and comic artworks, follow him on twitter here.